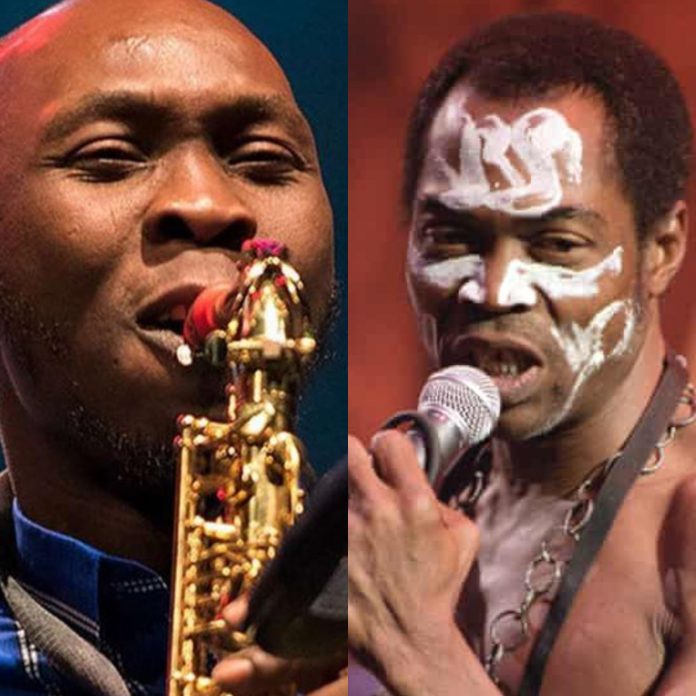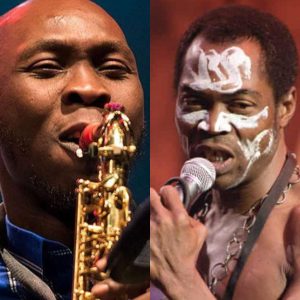 Seun Kuti, Fela Anikulapo Kuti
It's debatable if Seun Kuti is a true-born of his late Father for Slapping a police officer- who once sang "Yellow fiver-You dey stink o you dey stink- a popular lyrics that was released to ridiculed the Nigerian police force.
Fela Anikulapo Kuti and hooligalism are just paddy, police at check-points in those days would leave their duty post when they see Fela coming. Even at that,he would still stop his car to scatter the barricades.He was a respecter of nobody.He had a history of maltreating a teacher that punished FEMI his son when at Igbobi college. He put the teacher in his car and drove off.
I have lost the count of how many policemen Fela had assaulted. It's like father like son…….
.Seun is really a true-born of his Father. Omo ti Eku ba bi, Ekun ni o Jo. I am waiting to see Femi react to this matter.
Fela Anikulapo Kuti was musical legend, a pan Africanist who believed in the supremacy of African culture over European culture. He detested anything in Uniform. Yellow fever-you dey- stink o you dey stink. Later,he released ZOMBI.
He was a respecter of nobody. He was a respecter of no constituted Authority . Even while in secondary school where his father was a Principal. He always broke the protocols.He was jailed for 5years for breaking foreign exchange law.
Though,very influential,his diction was excellent. He was an activist of global repute but had his weaknesses.
I don't think Fela could mentor anyone except musically.
Seun,is a true-born of his father-Fela Anikulapo Kuti.
Seun is Fela's favourite. He saw everything about Seun while growing up. The first songs Seun sang at the Shrine was " Beast of No Nation" He was just 7 years old and he sang the song to the admiration of the teaming fans and his father. Femi na AJEBO. Fela stopped Femi from calling him Daddy….
Femi and Yeni witnessed the better side of their parent.There were brought up by their mum at Bariga. They were well raised.Unlike Seun which upbringing was the opposite of this…… He grew up the Shrine. The Africa shrine was a different world of it own. Seniority has nothing to do with age. The only person that was given a little respect as aged person was " Baba Ani" Fela's second-in-Command. He knew his onions too.
Seun's mother of course,was one of the 27wives married and wedded same day.
Seun once reminiscent of why his father decided to take such decision. He asserted,Fela told him his grandparents- Olufumilayo Ransome Kuti and Oludotun Random Kuti were not in a good relationship three years before the father's death. Hence, Fela decided not to stay with just a woman and became a polygamist…….
The truth is,Seun is gradually toying the the steps of his father the more he grows……
Seun has just reinsurrected his Fela's morribond political Party- Movement of the People (MOP). He has the wherewithal to fulfil his father's unfulfilled political ambition which many thought was a joke.
Seun is a true born of his father.
If Seun was birthed after Fela's demise, honestly, he would have been named "Babajide" The name-Oluwaseun is another factor that Fela preferred such name in appreciation of " a true replacement"after he must have departed to this world.
Although, Seun has not lived up to expectation of Fela's fans still hoping that by now he would waxed an album that would be more popular in lyrics and message to the power that be………
Except for, living on the father's glory of enjoying musical tours around the world just like his elder brother.
Nevertheless, we are waiting to see the aftermath of his case with the Nigeria police- if this will be the starting point of the 'real Fela"
In a nutshell,Seun's is replaying the characters of Fela which many young people have never seen or heard about….we hope to see Seun leverage on his father's true legacy as the " messiah of truth"