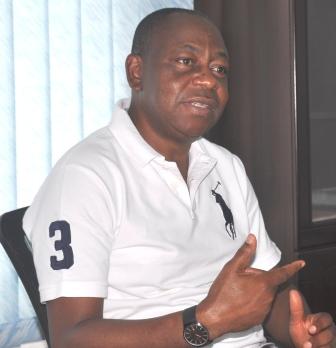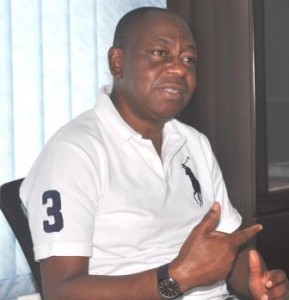 Likeable Maxwell Loko is the managing director of NTA TV Enterprises. He joined the NTA about 20 years ago and started his career with NTA in Lagos.  He studied Economics and also read Marketing, has an NBA in Marketing and possess a certificate in broadcast management from Universon Radio Netherlands. In this interview conducted in the comfort of his office, he tells National WAVES publisher, JIMMY ENYEH, Special Project Executive, ISIOMA BESTMAN and Photojournalist, JOSEPH JOLAYEMI about his new job. He also spoke extensively about Startimes and digitalized television. Read on
NTA went into partnership with Startimes with the aim of digitalization. Has this been achieved?
Yes, to a very large extent we are on course but I think there is need to educate viewers on what digital television is all about. Most times because of specific programming of different Nigerians, it was almost impossible to meet their needs. The young people may want some entertainment. The elderly, for instance, may have bias for news, and the children may want something that is children oriented and all that. So, we discover that the one general content channel may not be able to serve that purpose. So the second objective of the joint venture was actually to see how we can create a platform for a multi channel, which we have succeeded. Today the NTA which a lot of people don't seem to understand is not the NTA of the past, you have eight channels now streaming on the network, NTA entertainment gives you 24hour entertainment, NTA sports gives you 24hour sports content, NTA knowledge teaches the children of both the primary, secondary and tertiary institutions and we have the NTA parliament for the politicians, and so many. I can go on and on, though we now have about eight NTA channels now streaming on our networks courtesy of this joint venture. So to a large extent, we will say it has been very mutually beneficial particularly to the NTA and indeed the Nigerian viewers.
When Startimes was launched in Nigeria, the management promised to take it to all the nook and crannies of Nigeria. As it stands, it has spread its tentacles to 32 states. How soon will it cover the remaining four states?
Yes, but I must first mention that Startimes operates with a technology called the DTT technology (digital terestial television technology) and its different from DTH that's the digital satellite. DTH is direct to home which is the satellite technology. With the satellite technology, it is easy from this small office to transmit to the whole world, I don't have to be physically present in Lagos, Jos, Enugu and the rest of the States but with DTT you have to be physically present, that's why we call it a physical television, you have to be physically present in every location, you build your mass, build your antenna build your transmitters, so its virtually like building a brand new television station. So you can understand why its so capital intensive, so when you are in 32 cities using digital technologies in just three years , I think to me its a huge achievement considering the capital intensiveness of the project. but having said that, we are very mindful of the fact that there's a deadline which is January 2015 that all analog over the air broadcast must transit, so we have a responsibility as a national signal distributor, not to be driven by profit but by what we call public social responsibility to cover nothing less than 80% of the Nigerian broadcast land scape. For us, we'll say that we have successfully transited. So having that in mind, we are working very hard to ensure that come December this year or January 15 next year, we should have covered the minimum of 70 to 80%. By doing so, it will be a very big relief to the federal government of this country, because we are taking the burden so to say. The financial burden of what it would have meant to transmit to all these cities and all these states to digital platform. So that is the plan. I will not agree if you say we would have been in more places and we are not but considering what I have told you now, 32 cities is a remarkable achievement. If you put it vis a vis the cost of deploying digital terestial services.
There are allegations that Startimes uses substandard equipment to deliver its services. What is your take on this?
I believe that allegation is malicious, but I will forgive those who say so. If the allegation is from the point of view of ignorance but also, I think that there are some fifth columnist somewhere who are instigating such allegation only because of competition. I want to state categorically clear that no substandard equipment is being used. There is what they call the technical standard for digital terestial that has been set by the ITU and the technical standard is not set by the Chinese, it is set by the ITU, what do I mean by that? In Europe, that is the same region where we belong, the technical standard for DTT which is the requirement for the digital transition is the DVBT, the DVBT is simply the digital video broadcasting – T, the T there means terestial, we also have the DVB-S which means satellite that is like DSTV. Now, Europe, Germany, UK and the rest when they transited, it was the DVBT they used but technology as you know is dynamic. Technology is not static, so, the variant of that DVBT now is what we call the DVBT2, so in the first four cities that Startimes started way back four years ago, it was the DVBT that was used shortly after DVBT2, even in Europe it wasn't so long that they started using the DVBT2. Shortly after, we also changed the technology from DVBT to DVBT2 and all over the 32 cities that we are talking about that is the technology that is being used. and you know it surprises me for instance the DVBS which is the satellite that has been with us there's a variant of it called the DVBS2., But those using the DVBS have not migrated to S2 yet but they use campaign of smear to undermine Startimes or maybe to demarket Startimes in the public eye. They see Startimes as using inferior equipment. but I can bet you this technology is standard in Europe and in all the region, region one, where we belong. And it will also surprise you that most of the countries in Europe that are also using this DVBT2 go to China to have this set up boxes manufactured for them. You know sometimes except if you go to China you will understand what I am talking about, Chinese product are not synonymous to fake. It is what you ask them to do they will do for you. So we know that in Nigeria we are the custodian of the Nigerians in this subsector. So, we cannot short change Nigerians as a national body. A lot of criteria was entered into to select this partner. A lot of due diligence was done, the technology has gone through several test, so people liking it with some of our brothers who go there for business and shorten the specification of the product so that they can come and sell it cheaply here and make quick profit is unfair. These are two different scenarios, so it is wrong and I think people should begin to change their mind set, China is not the biggest second economy in the world by producing substandard product, China produces for America, produce for Germany and Europe and the rest, all these countries, these are advanced first world countries, they have their factories in China and they get the best out of China. So, we also get the best out of China, so the fact that it comes from China or the partners are Chinese is not synonymous to having fake technology but like I said earlier, It was just a campaign of smear for those who want to just cause mischief or maybe fear entertained by people who have the mind set that anything that comes from Chin is always fake or not original but seriously speaking, there is nothing whatsoever that is close to lower technology or fake technology or anything, in what we do.
I think all of these boils down to competition, so how does Startimes react to this?
You see, we are a very responsible company. We are responsible brand. We don't want to go into competition of demarketing. When all this was happening, we knew a lot of things that those our competitors who are mentioning this allegation were doing. We know alot of things they are doing wrong, if wanted to go into demarketing, we would have told the whole Nigeria what they are doing but it will look as if we are just fighting each other and washing our dirty linen on the streets. We let them to keep doing the demarketing and we went on to do our job, those who know, know that we are doing the right thing. So lets meet in the market place. Let the subscriber, the Nigerian viewer, and the stakeholders make their decisions based on services they get not based on what we tell them about our competitors or what our competitors tell them about us. I mean the market is big enough for everybody. let the subscriber or the audience or the people out there take their own decisions based the product. I think that is the way forward, not to sit down and begin to trash talk each other. They say the taste of the pudding is in the eating. If you dont taste the pudding, you will not know how sweet it is until you taste and you now say ok yes this is good. So, whatever anybody tells you, say look you dont know what you have not tasted and so, you dont know what your talking about.
Last year Startimes customers had the opportunity of watching the UEFA champions' league. Will they have same this year and what is Startimes doing to ensure it gets the rights for Nigerians to watch the Barclay premier league?
Let me start with the champions league. The champions league we have the right for the terrestial broadcast for the next two seasons, that is the brochure. We are trying to send to our marketing agency and the rest to partner with us. That is one, secondly, the EPL unknown to a lot of people, you know sports rights is entirely a different ball game. You bid for this right, you get the right for whatever season, and until that season is over, no any other broadcaster can air the same thing in that territory. So those who have the right now have the exclusive right for the period of time that they are using it. So, we cannot go fighting them, it gets to a point where the right to ownership expires. Then, we can go back to the market and bid for it and whom ever EPL has given the right, will pick it, but people should understand that this thing is not some thing you just hook on to and start showing. It is governed by rights and by ethics, you don't go flouting the regulation guiding this right just because you want to make your subscribers happy. But they should be patient like I said, the NTA network and Startimes have introduced DTH what we call Starsat that was the press conference we held recently, there were lots of sport channels there, so we are expanding until such a time that we believe that we have covered the whole of Nigeria. We don't want to go get EPL rights for instance and we are not able to broadcast to the whole of Nigeria, because of limitation of where we are but now that we have DTH that is directly to home satellite combined with the BTT that is the Startimes, then we are ready, we shall go to the market place and bid for it and when that times come Nigerians will hear from us. But we want to make sure that every Nigerian has a set up box at home, and we will give them this thing that they used to get at the cut throat price at an affordable price. Every body, every Nigerian is entitled to watch it so long as they have this. We know it can be done because Nigerians have been taken advantage of for too long, until Startimes came, nobody believed that pay TV could be that cheap, and for so long, Nigerians have been short changed. So that is part of our mission, that is part of our objectives to bring digital television, to bring content all across the world including sports content and everything to every Nigerian home at an affordable price. So we want to prove to Nigerians that they can get this at a very minimal cost without taking advantage of them. So the era of monopolistic pricing and taking total monopoly of the industry is over, and that is why we don't compete by fighting and smearing our competitor's name. We just compete by acting and by doing so that people can understand what we are doing.
Customers of pay TV are canvassing for Pay as you view policy. Will Startimes embrace this policy?
Now, you see, unfortunately I have been one of those strong believers that digital transition could be achieved in 2015. I am beginning to have a second thought, I will tie it to your question now, one,, you know we are just barely few months to January 2015. We have not been able to switch off one, when I mean switch off, Startimes is ready, NTA star TV is ready. We want over the air broadcasters to now join the platform, we have prepared the ground for them but they are reluctant to do because the regulators are still allowing them to transmit terestial, I mean for as long as you allow an average person not just a Nigerian to have the benefit of having it both ways, he will continue to have it his own way. We did a flag off in Jos. I want to break it down so that you understand what we did a flag off in Jos and the implication of that was that Jos was supposed to have transitted but well the word flag off was just to know that Ok, just starting the race, it was ceremonial, but what needed to be done is that all the analog televisions in Jos by now ought to have switched off, if you go to Jos now, the PRTV, the state television is still transmitting terestial. They are on the Startimes platform and they are still transmitting terestial, AIT in Jos is still transmitting terestial and they are on the Startimes platform, Silverbird same thing, what are we doing? What needs to be done, switch them off, remove the transmitters so that nobody watches them terestial because if we don't take the bull by the horn, that has created in the mind of the subscriber that DTT is instructively a pay TV which shouldn't be. ITU chooses DTT technology basically to take care of free to air, all of us here, our parents back home in the village, every body is entitled to watch television free, when I mean, the television I am talking about public television, over the air analog television like NTA, AIT, Silverbird and the rest and not supposed to pay to watch those stations and that is why DTT is the best technology for digital transmission because NBC gives permission to operate within a particular region. For instance, PRTV should be seen only within Jos, but you cannot put them on a DTT satellite because that means PRTV would be seen in Portharcourt and in Lagos, they will be infringing the NBC code. So DTH that is satellite has no capacity to restrict or localise broadcasting. So, it is only DTT that can say, Ok, watch PRTV only in Jos, but until you switch them off, you have not transited. So the issue of pay per view, video on demand and all that will still not be achieved until we achieve total transition, otherwise there will be lot of confusion. That is why there is so much confusion in the minds of Nigerians now. When we are battling with the issue of total lack of public awareness which is the prerequisite for a successful transmission, public awareness that is completely absent and an average Nigerian does not know what the transition is all about. He has no idea at all, that by January 15 2015 his television will go blank if he doesn't have a set up box that is what is called the decoder, if he doesn't know it , we need to educate them. Secondly, there is total lack of funding, I am a member of the DGT which has been set up since 2012 up till now, as we speak, there is no funding for the DGT and part of the DGT mandate is to make sure that they create enough public awareness. Public awareness campaign also takes money. So from whose pocket will the money come ? We all come from our different place of work to form the tea. Is it our places of work that will fund the public campaign? So, as we use our medium to educate people, I go on air when necessary to keep talking and talking, whom ever that watches it will now know that this is what they are talking about. So it should go beyond that, it should go beyond individual. We are doing it because we feel that we are involved but a holistic approach is needed., Everybody should be involved, the government should take the front sit, in ensuring that they have done the right thing by setting up the DGT, you must fund the DGT, so that the DGT will go by its clear mandate of ensuring that the public is fully aware of this digital transition..
This is a new terrain; you are now the MD of NTA TV Enterprises. Definitely, there will be challenges. How have you been able to surmount these challenges?
In every business enterprise, the greatest challenge is funding, I will be very straight with you. Even though, this is a subsidiary of the NTA, there is a limit to which NTA can fund this enterprises. That is why I say we have to generate our own funds through our ideas and partnership we reach with our partners, and that also depends on bringing such idea to fruition, bringing such idea to fruition simply means you successfully executed it and some funds are in your coffer., That is one. Secondly, in terms of our interest in the joint venture funding is also critical, because if your partner in the joint venture, It presupposes that you are suppose to bring something to the table, so in a situation where your partner does most of the funding, it becomes a challenge to you and the partner in the joint venture. So even though you are providing all the infrastructure which can also be monetized but you know we cannot take all the infrastructure because they are national assets and give a company so we are only providing the infrastructure to make it even because this is government infrastructure as government facilitation of the project but also there is something that is expected in terms of funding to the joint venture. So that your partners too will know that there is a sense of all inclusiveness. I think those are the basic challenges.