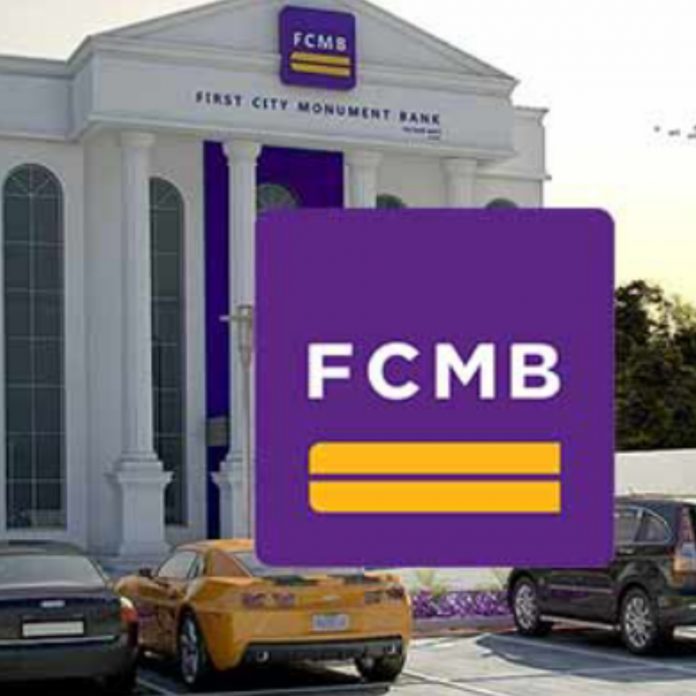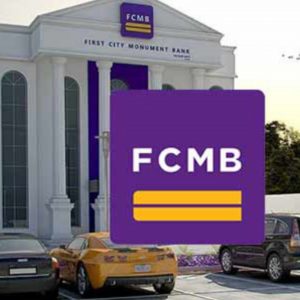 FCMB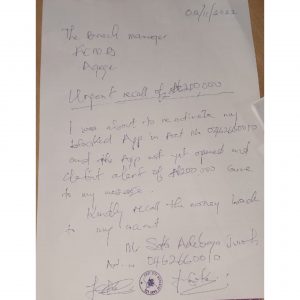 Letter written by Mr Saka Adebayo Jimoh to FCMB over alleged stolen N500,000
By Our Reporter
A 74-year-old retiree and account holder with the First City Monument Bank (FCMB), Mr. Saka Adebayo Jimoh, is currently battling ill health on account of the N500,000 allegedly stolen from his FCMB account.
Recall that NATIONAL WAVES  had reported how the sum of the N300,000 was fraudulently transferred from his account to a WEMA bank account without his consent.
NATIONAL WAVES gathered that while Mr. Jimoh was making frantic move to ensure that the money was returned to his account, another N200,000 was allegedly transffered from his account.
Mr Jimoh who's currently on sick bed has appealed to FCMB to return his money.
He narrated his ordeal to NATIONAL WAVES recently. He said " I changed my phone to a new one and wanted to transfer the sum of N400,000 to someone and it was not going through"
"I called FCMB Customer Service Centre and a lady attended to me by giving me my username which was missing in the new phone. I was able to open my App back but couldn't transfer. I called back after few minutes later, a young man answered me requesting what I wanted. I told him I wanted to transfer #400,000 and it's not going through. He told me that I can only transfer #50,000 unless I come to the bank to register my new phone so as to return my transfer limit to #5million. In the alternative, that he will help me transfer the #400,000 by sending me a code"
He continued "He sent the code immediately but I refused to act on the code because I suspected him to be a fraudster. I went into my room to change to enable me visit the bank branch at Adura, Agbado, On my way, I got alert for #200,000 debiting my account. Again before I could get to the bank, I got another #100,000 debiting me"
"I got inside the bank and raised alarm. My App was blocked and I was asked to write to the bank all that happened which I did".
"The next day, I went to Agege branch to complain and the letter was submitted again. It was at Agege branch that I was told that the money was transferred to WEMA Bank at Sabo branch, Lagos State".
"I started sending emails to FCMB and I was asked to wait for 30 days and that action was going on to repatriate my money back from WEMA bank"
"While we are still at this, another N200,000 was transferred to same WEMA account on 2/11/2022 when I tried to use the App"
"When I couldn't get satisfactory results, I decided to send emails to CBN fraud desk.Till date, no response from them"
When asked if he gave out any information regarding his account, he said "I did not give out my PIN or card number to anyone.
Mr Jimoh said his money was stolen with the assistance of the FCMB staff he spoke to and appealed  to the bank to retrieve his money from WEMA Bank"
He said " I sent correspondences to CBN and FCMB fraud desk respectively with Bank alerts statements on how the money was moved. Up till now, no actions were taken by the banks"
"This fraud was perpetrated by one of FCMB staff, the money was transferred to a WEMA Bank account. "The culprit has BVN, NIN and other relevant documents with which he opened the bank account with WEMA bank. I don't know why the culprit could not be traced by FCMB" Mr. Jimoh lamented.
While speaking to NATIONAL WAVES on behalf of FCMB, Mr Jamil Usman, months back said the bank was working to unravel the mystery behind the fraudulent transfer of the money (N500,000).
Watch video below
Mr Saka Adebayo Jimoh speaking from sick bed