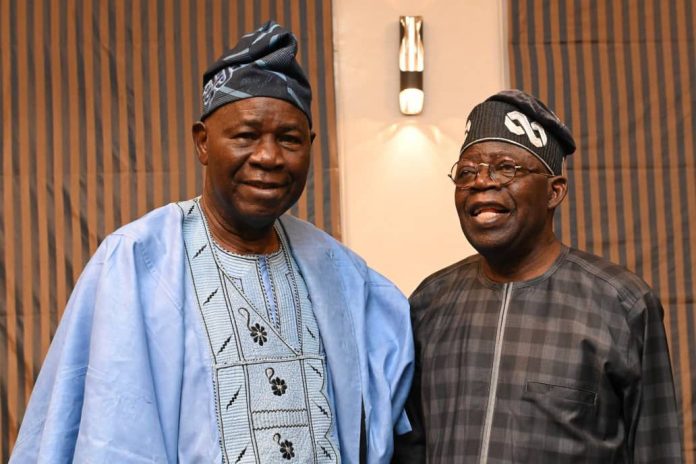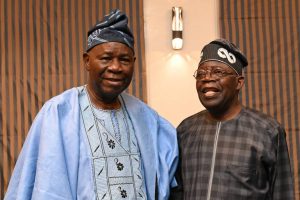 Chief Abiola Ogundokun and Bola Ahmed Tinubu
By Our Reporter 
A Chieftain of the All Progressive Congress ((APC) in Nigeria and Obanla of lwoland, High Chief Abiola Ogundokun during the weekend had a meeting with President- Elect, Asiwaju Bola Ahmed Tinubu at his Abuja official residence.
Chief Ogundokun who is one of the most respected member of lgbinmo Agba
(Council of Elders) was at Tinubu residence alongside Governor of Kogi state, Yahaya Bello, Speaker, House of Assembly, Femi Gbajabiamila and former Osun State Governor, Isiaka Gboyega Oyetola among others to welcome back the President-Elect and discuss pertinent national issues with him.
Earlier before the visit High Chief Ogundokun, has hailed the victory of Asiwaju Bola Ahmed Tinubu, the President-Elect immediately after his February 25th, 2023 victory.
It would recall that while congratulating the President-Elect in a congratulatory letter made available to newsmen after the victory , the Iwo high chief described Tinubu as a political enigma whose political experience, sagacity and know-how is worth studying.
He maintained that Asiwaju's presidency will usher in an era of prosperity and unprecedented development for the country. He added that the victory of the former governor in the keenly-contested election is a victory for the generality of Nigerians, particularly the common man.
The letter reads: ''Your Excellency, accept my warm congratulations on your victory. I extend my best wishes for your success as you prepare to take up the responsibilities and challenges of leading our beloved country into an era of prosperity and high hope.
"Your victory at the polls is no doubt a victory for all Nigerians. It is now very clear that you're a man destined for this challenge of leading at this particular period.
"The victory is reward for hard work and doggedness both of which you exemplify. While others busied themselves with frivolities, you strategized. You worked for this victory and you earned the reward.
Mr. President-Elect, once again I congratulate you. '' The elder statesman wrote.
Chief Ogundokun also urged Asiwaju to extend an olive branch to the candidates that lost at the polls and to use his leadership quality to build a government of unity.