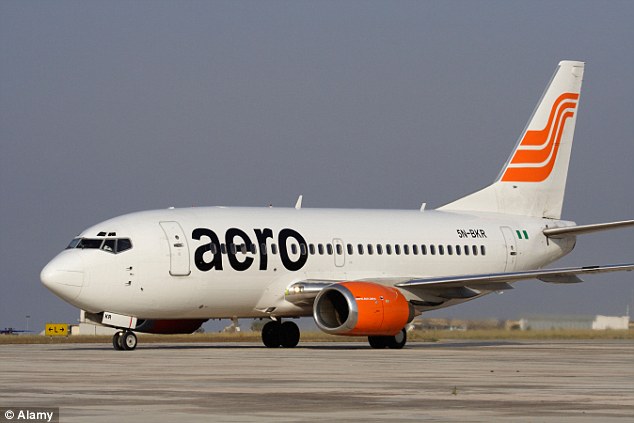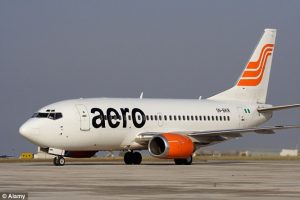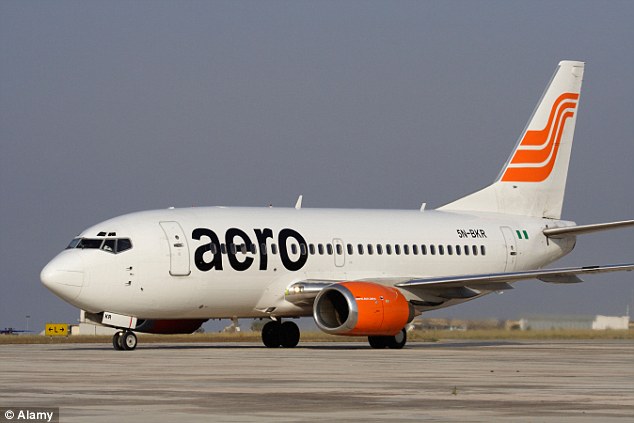 Aero Contractors plane
By ourvReporter
Rachel Ademola (not real name), a Lagos State resident, has recounted how Aero Contractors withheld her N50,510 after the airline cancelled a Lagos-Warri flight.
Ademola told FIJ that she booked the flight on April 8 with the hope of travelling on April 14.
"On April 8, I booked a flight with Aero Contractors. The plan was to travel with the airline for a burial in Warri, Delta State," Ademola said.
"On the itinerary, the flight was supposed to take off at 7:30 am. As a result, I made sure I got to the airport around 6 am.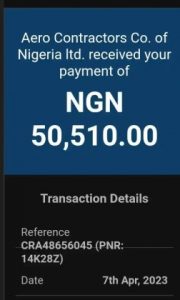 Payment Made by Ademola
"When I got the airline's stand however, hoping to check in so I could make my way to the departure lounge, one of its officials suddenly told me that the flight to Warri had been cancelled.
"When I went to their help desk and demanded to know what was going on, the attendant that spoke with me replied me in a very rude manner. She simply shouted at me that the flight had been cancelled. She also did not give me any additional information on the way forward."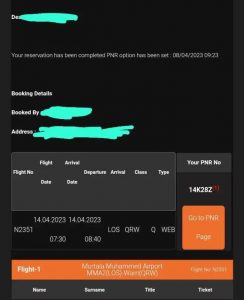 Mails sent by Ademola
Ademola said while she was still at Aero Contractor's stand, another passenger, who was waiting in the queue, also told her that the flight she previously booked with the airline was cancelled without her getting any prior notification.
"When I asked the same official, who had screamed at me, if the cancelled flight would still convey passengers to Warri that same day, she again responded to me rudely, saying, 'Madam, I don't know!'" Ademola said.
"At that point, I simply left the airline's stand and resorted to travelling by road. The most interesting part was that my friends, who also went for the burial and had opted to travel by road, got to the burial several hours before I could make it to the venue."
Ademola told FIJ that after the burial, she sent several emails to the airline on how to get a refund but did not get any response.
Aero Contractor's response showing reservation arrangement for Ademola
"I also made several phone calls to them but did not get any response," said Ademola.
"That was the most annoying part. After making me go through hell, Aero Contractors has also refused to refund my money. The airline has been very unkind to me."
When FIJ sent an email to the airline, requesting to know what was being done to refund Ademola, one of its officials, who did not include name in the response issued, wrote:
"Thank you for choosing Aero Contractors. Kindly note that payment made via Pay Stack was successful. Kindly contact your bank for a reversal of funds in case of any debit."
With this, FIJ sent a follow-up email, letting the official know that the initial mail sent was not about a failed payment but a refund.
At this point, another Aero Contractor staff member, who simply identified herself as Oluchi, responded, but it was obvious that just like her colleague, she did not read through the mail to understand that the inquiry being made was on Ademola's refund and not a failed payment.
FIJ