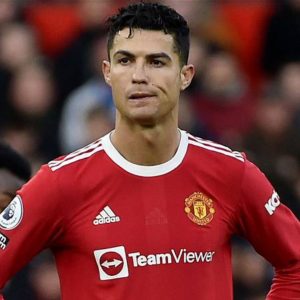 Cristiano Ronaldo'
By Our Reporter
That Manchester United have terminated Cristiano Ronaldo's contract leaving the Portuguese striker searching for a new club as a free agent with Jorge Mendes is no longer news
Cristiano Ronaldo has got what he wanted as his second spell at Manchester United comes to a bitter and unceremonious end.
But after the 37-year-old's contract was mutually terminated by his furious employers, the question turns to where Ronaldo will end up next. United made their decision off the back of Ronaldo's explosive interview with Piers Morgan, where along with criticising the club, he also outlined his plans to continue playing until he was 40.
Yet despite Ronaldo being available as a free agent, few clubs would be able to afford the five-time Ballon d'Or winner, whose £500,000-per-week wage made him United's top earner prior to his exit. According to Marca, Ronaldo has been 'torn' between the idea of a lucrative move to the Middle East or staying put in the Premier League and has made admiring glances at Newcastle United's riches.
Seven destinations for Cristiano Ronaldo after Man Utd contract terminated
Cristiano Ronaldo breaks silence with statement on termination of Man Utd contract
However, The Telegraph report Newcastle have 'zero interest' in financing a move for Ronaldo as his ego could disrupt the harmonious progress Eddie Howe is making on Tyneside. Howe has got Newcastle firing this season as they sit fourth in the table after avoiding relegation last term.
While Newcastle are being bankrolled with untold fortunes from their Saudi owners, spending has been kept fairly modest during Howe's reign thus far, and it appears unlikely they would want to break their budget by bringing Ronaldo onto their books – at St. James' Park at least.
For Marca also state in their report that a move to Saudi side Al-Nassr – who have the same owners as Newcastle – could be on the cards. Ronaldo turned down a mega-money offer from a Saudi-based club (believed to be Al-Hilal) in the summer as he was "happy" at United and wanted to continue playing at Old Trafford.
Cristiano Ronaldo of Portugal reacts during the Portugal Press Conference
Cristiano Ronaldo is on the hunt for a new club after his contract with Man Utd was terminated
Where should Ronaldo go next? Have your say in the comments below.
Ronaldo confirmed in his recent bombshell interview with Morgan that the offer was worth €350million for two seasons. "It's true, yes it's true…," he said, before adding that rumours nobody wanted to sign him were "garbage" and "completely wrong".