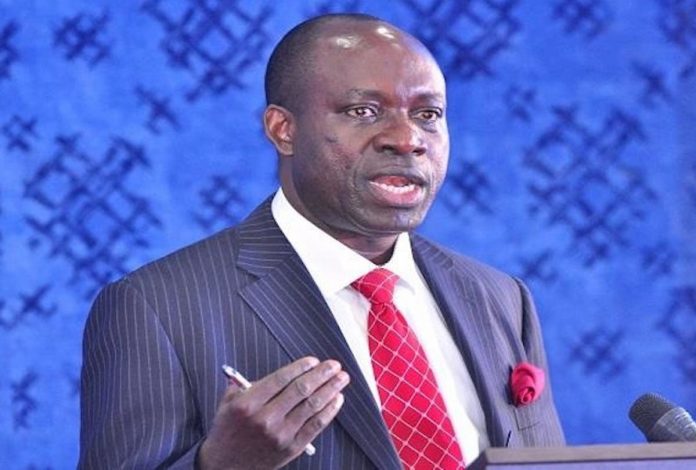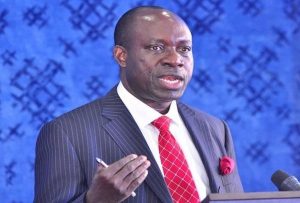 Candidate of the All Progressives Grand Alliance (APGA), Charles Soludo
By Our Reporter 
The Candidate of the All Progressives Grand Alliance (APGA), Charles Soludo has won seven local government areas in the Anambra governorship election.
With the results so far declared by INEC, Soludo has taken a commanding lead in seven LGAs.
He has won Njikoka, Anambra East, Onitsha South, Anaocha, Awka South and Orumba South.
The APGA candidate also defeated Andy Uba of the All Progressives Congress (APC) and Valentine Ozigbo of the Peoples Democratic Party (PDP) to win Aguata LGA. The three frontrunners in the Anambra governorship election are from Aguata.
There are a total of 18 candidates — all male — vying to succeed Willie Obiano as governor of the state.
There are, however, seven females vying for the deputy governorship position.
 Breakdown of the results from the seven LGAs.
ONITSHA SOUTH
APC: 2050
APGA: 4281
Advertisement
PDP: 2253
YPP: 271
ORUMBA SOUTH
Advertisement
APC: 2,060
APGA: 4,394
PDP: 1,672
YPP: 887
Advertisement
ANAOCHA
APC – 2,085
APGA – 6,911
PDP – 5,108
YPP – 868
ANAMBRA EAST
APC 2034
APGA: 9746
LP: 70
PDP: 1380
YPP: 559
ZLP: 43
AWKA SOUTH
APC – 2595
APGA – 12891
PDP – 5489
YPP – 919
NJIKOKA LGA
APC: 3216
APGA: 8803
LP: 251
PDP: 3409
YPP: 924
AGUATA LGA
APGA: 9,136
APC: 4,773
PDP: 3,798
YPP: 1,070