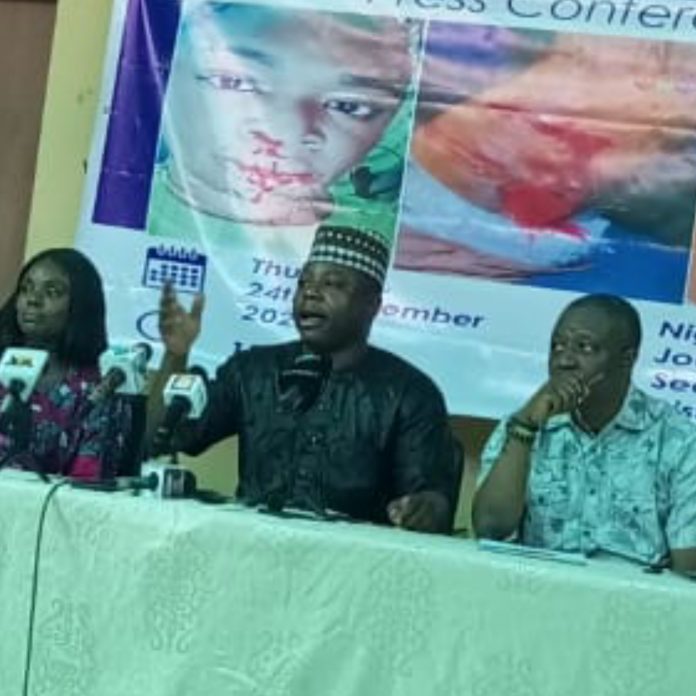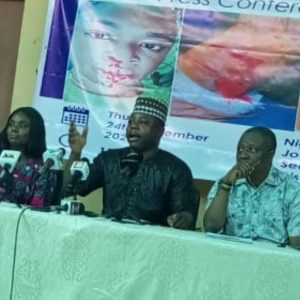 Barr Toyin Falaye; Mr. Lemmy Ughegbe and Mr. Jacob Edi
By Timothy Elerewe
The controversy generated by the suspicious death of Mrs Bimbo Ogbonna last month in Lagos has taken a new dimension as two Human Rights groups, Men against Rape Foundation and Make a Difference Initiatives have vehemently disagreed with the story that Bimbo committed suicide.
. Bimbo was said to have set herself ablaze in the heat of frosty relationship with her husband, Mr. Ikechukwu Ogbonna on October 13, 2022 in the family's apartment in Lagos while her husband, Ikechukwu, was alleged to be recording the scene.
Addressing a press conference in Abuja on Thursday, the Executive Director, Men Against Rape Foundation(MARF), Mr. Lemmy Ughegbe, called for proper investigation of relevant agencies in the alleged suicide death of Bimbo as there were questions yet unanswered in the whole incident.
For example, Mr Ughegbe wanted the intended thorough investigation to answer the question why would the husband of the deceased be filming the apartment while his wife was burning inside the house which account he allegedly posted in the internet later instead of calling for help.
He also accused the Domestic and Sexual Violence Agency of the Lagos State(DSVA) of sleeping on its duty to respond to distress calls earlier sent to it by Bimbo to save her life from her husband.
He believed that Bimbo's life would have been saved if the agency had lived up to its mandate in Bimbo's case.
"It is on record that Bimbo cried out, filed formal complaint to Lagos DSVA about serial abuses by her husband, Mr. Ikechukwu Ogbonna.
"We also have recorded conversation between Bimbo and a DSVA official, wherein Bimbo was distressed and called the agency for urgent action", he said, adding that, unfortunately not "unfortunately, the evidence we have is that the DSVA treated it with complacency and usual bureaucracy of the public service"
Continuing, the Executive Director maintained that "for an agency set-up to deal expeditiously with issues of Domestic and Sexual Violence expeditiously, the complacency
with which Bimbo's distress call was treated amounts to negligence and complicity in situations that led to her death"
He regretted that Bimbo's death could not be reversed but actions must be taken to unravel the circumstances surrounding her death for the sake of millions of Bimbos in the country.
Also speaking at the press conference, the leader of the Make a Difference Initiatives, Comrade Jacob Edi condemned the rising wave of domestic violence in the country and called for proactive measures by all concerned to arrest the tide.
On Bimbo's death, Mr. Edi appealed to the Lagos State Director of Public Prosecution to call the DSVA for the files of documentary evidence of physical abuses of the decease by her husband.
He queried:"how can a man whose wife is being burnt be so calm video recording the death of his wife?"