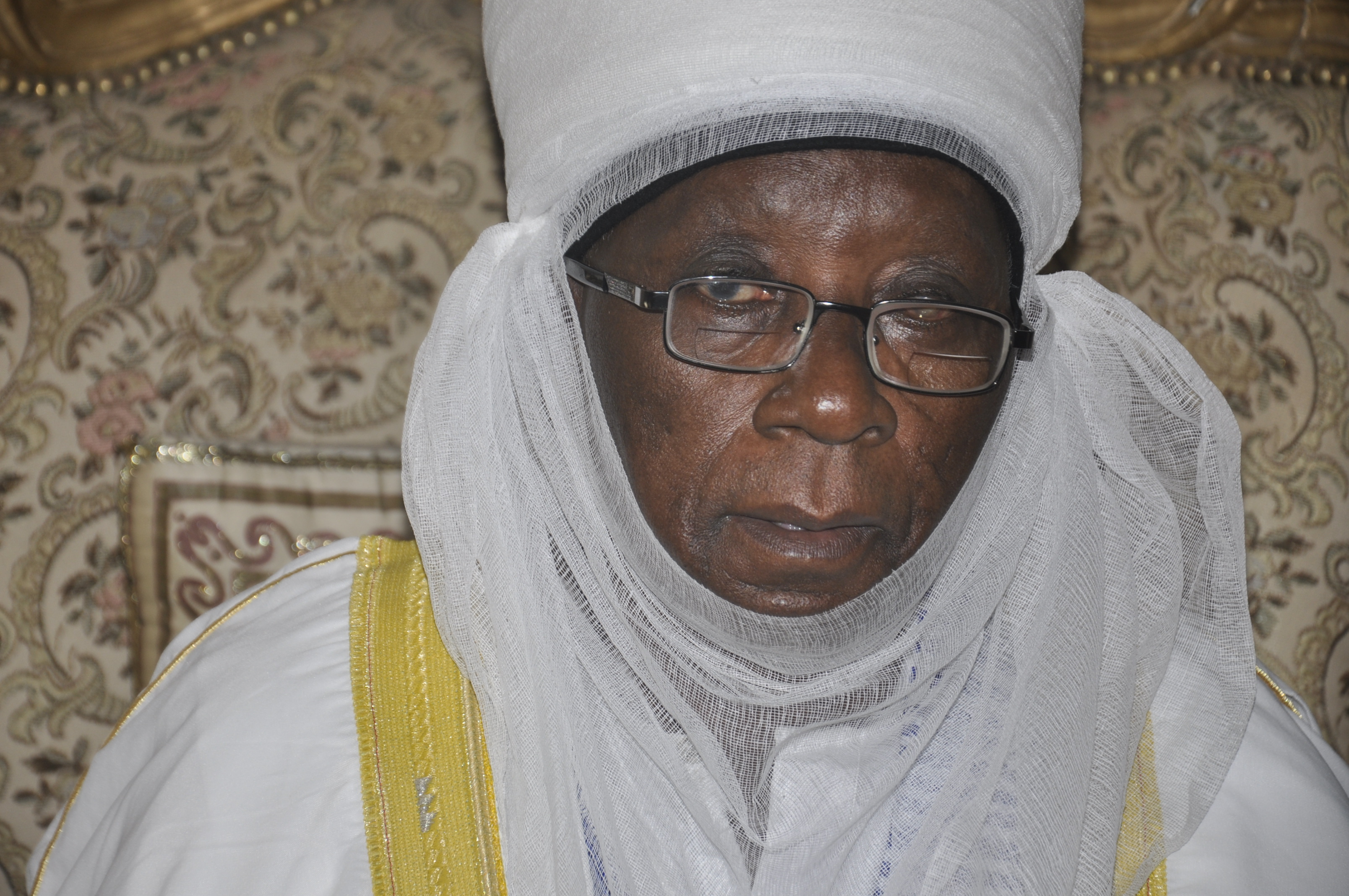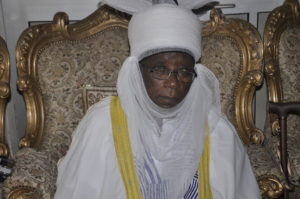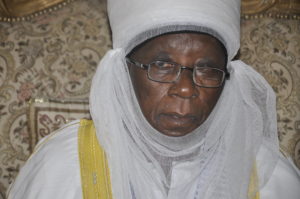 The Emir of Nasarawa, Alhaji Hassan Ahmed II mni, MFR, FNIM) is a reporter's delight any day, anytime. This is because he is always handy with answers to questions thrown at him. When National WAVES publisher, JIMMY ENYEH had a one-on-one interview with the first class monarch, he did not mince words in providing answers to questions bordering on the state of the nation.
Unknown to some people, the Emir was born on May 18 1939 in Nasarawa Town, Headquarters' of Nasarawa Emirate, Nasarawa Local Government Area of Nasarawa State.
Having successfully graduated from the Quranic Islamic School at Nasarawa, the young Hassan was enrolled for western education in 1945 and passed his first common entrance examination into Katsina-Ala Middle School in 1949.
Having passed from Katsina-Ala Middle School, his Highness gained admission into Bauchi Teachers College in 1954 and graduated in 1956. He was at Rural Science Education College, Minna 1958-1959, Higher Teachers Training College,  Ilorin,1980-1982; Staff Development Centre, Kaduna 1982; Institute of Administration, ABU, Zaria, 1984 and Institute of Public Administration Management, 1982-1983.
That is not all; Alhaji Hassan Ahmed II was in the first set of participants at the National Institute for Policy and Strategic Studies, Kuru 1979-1980 i.e. Course 01.
The highly respected monarch started his working career as Headmaster, Senior Primary School, Nasarawa 1960-1962 and served in all the three tiers of government, (local, state and federal governments- among which are Assistant Executive Officer, Interim Administration Council, Kaduna 1963-1964, Executive Officer i/c Provisional Officer, Yola, Sole Administrator Benue-Plateau Sports Council, Jos; Plateau State Liaison Officer i/c Lagos, Secretary, Mangu and Jos Local Governments, Principal Secretary to the military governor,  Plateau State Commissioner Internal Affairs, Information and Establishment, Plateau State, Deputy Permanent Secretary , Military Governor's Office 1979-1980. His Highness was also the Secretary/Director of Administration, National Institute for Policy and , Industrial Training Fund (ITF) for 11 years which makes him the longest serving Chief Executive.
After retiring from active service, Alhaji Hassan Ahmed II held the position of Chairman, Nasarawa State Civil Service Commission and Chairman, Governing Council, College of Education Akwanga.
His Highness has received many awards and honours and is a member of many organizations including 1995 National Productivity Award (Most Productive Individual Award presented by the late Head of State, General Sanni Abacha and National Honours Award (Member of the Order of the Federal Republic of Nigeria) (MFR)  by former President, Chief Olusegun Obasanjo in 2001. His hobbies include; Reading, Horse Riding, swimming and travelling. He has visited many countries in western and Eastern Europe, North and South America, Japan, India, Saudi Arabia, Hong Kong, and many countries in the North, East Central, South and West Africa. His Highness is the 11th Emir of Nasarawa. He is married and has children.
How have you been able to maintain peace and tranquility in your community?
Thank you very much Jimmy. I will always begin this by expressing my gratitude to Almighty Allah. You are welcome. We regard and respect people who have come to this palace. The question you asked is very fundamental and very important.
Keeping people together needs a lot of things but we are traditionally here, all the title holders respect and love the title and respect whoever we give title. That is myself, the Emir and the president of the Emirate Council and I keep my people by preaching the gospel of peace to them. Let them see the difference between peace and lack of it.. you give them to appreciate and on their own part, they try also to keep that peace together, and from time to time I devise a variety of cross section of people cutting across tribes, the originality, regime and everything, they come to the palace here and we talk. Let me tell you, the most important thing we do, we pray every now and then, we pray together for peace and I can tell you that we have seen the use of prayers. All the happenings, the violence do not reach here at all. We are at peace and mind you Jimmy, the conditionality and the living standard of our people is not admirable. You can talk about peace as much as you can but unless the living standard of the generality of the citizenry is improved, you can't have the peace. As I said earlier, we thank God very much that we are living in peace and we don't have problem at all.
You are the traditional ruler of Nasarawa. What are the things lacking in your community that you want the government to put in place?
Wow, they are very many. Here in the Emirate Council, we work with the local government council. As you know as a publisher and a journalist, we lack lots of things. For instance, we have been agitating for water for many years. I don't know and we have been doing that. Every time we meet the governors including this governor, The first thing we talked about was water, what we heard was that contract had been awarded for the dam and we saw lots of instruments brought here  physically but the machine to pump the water is yet to be brought. As for roads, they are in very bad conditions. As for schools, they are worse. Let e tell you, as an old school teacher. I used to visit schools, I don't again, I can tell you I don't like the state of schools. It is very discouraging. If you look at the quality of teaching, the  teachers and equipment, the children and attendance, It is not what it used to be and I am not sure if government is aware of that. One of the initial things that destroy the people and education is lack of investment in the educational system; we don't play about it, we don't joke with it. You have to enrich educational development in its entire facet. If you have time Jimmy, go round the school , there are schools around here, go and see. Try find out how many people have come to school because many of them have not been coming, how many teachers came to school; those who have come, how prepared are they? We can't leave our education system like this. The quickest way to spoil the people and the nation is to underrate and diminish the education system either in the primary, secondary or tertiary institution.
For medical, well, there are a lot of promises but I tell you, here in Nasarawa, we have two Rivers, the River Kotu and the River Ya. The River is full at this time but in the next two months the river will dry up. If you come to Nasarawa in three months time, you will be amaze with the number of people that are having water borne diseases. The River will not be flowing very well, it is full of diseases, and God knows what will happen. So on the medication, we can improve a lot.
We have mobilized our people to appreciate the importance of farming. Many of our people who have left farming have gone back to farming. It is a good story because the direction we going, 17 years ago. Let me use here as an example. I believe from now till some years to come, we are not going to be hungry and I am sure you are old enough to know what happens when there is hunger in the country. Even at that time not to talk of this time where we have large facilities to a large extent, at least 50% are living completely below standard. A popular saying goes thus; the rich are getting richer and the poor getting much poorer. I think there is something that needs to be done. At the debate for National Conference, they said that North will be the loser, some said it is the South. Everybody is saying that. In Nasarawa here, there is not too much fear because people concentrate on farming, the land is rich, anything you plant, it grows. Recently, we were talking about natural resources too; we see the government doing well in established institutions for mineral resources. You can name them. They are very many and they are in large quantities. We use our crude implements to dig it and seven foreigners came and tried to excavate it through their advanced instruments but even with farming and minerals. Look at the politicians. I don't like what is happening in this country. In the North here, we have lots and lots of people from the South, they live here, they marry here, build houses here, people who have hotels and other businesses. Some of our people too are in the south. They are not mindful of saying that the south should deny them because that is where they live. You go to Lagos, Ibadan,, Delta, you go to Onitsha and ask them, they will tell you that they cannot go back. They will never go back. So I prefer a situation where Nigerians, where ever we find ourselves, we make sure we live together.
There is very important adage in Hausa which says "inasam, inakayawa" in other words where God says you should stay and you are making it, it is a better place for you. You cannot be wiser than God.
Let me take you back, you spoke about mineral resources in Nasarawa State. Do you think business people in your area have exploited the mineral resources here to the benefit of the people living here?
Mineral resources are the greatest asset of the federal government. If I find mineral resources like iron or gold. I am not supposed to take it because it is not my business; it is not local or state government business. It is federal government business by law. In other words, it is only the federal government that gives the authority to process mineral resources but our people will partially participate because it is found in our locality.
All people in West African countries, is for them and they are making it, now, they have damned everything, you have to go deeper inside, you have to use machinery, you don't have machineries, so you don't question our people. Our people are very enterprising if it comes to that. They will be able to license it and excavate and get mineral resources, they will do it.
You were a public servant, a teacher and now an Emir, how will you compare lifestyles in these different callings?
I don't know what you mean
I mean life as a public servant, teacher and currently a monarch?
Like an average human being, I have grown up. I grew up with school mentors. I found out that teaching is a profession, so I chose teaching and then I joined the state civil service.
There are ways of doing things. At any age in those days, it was pleasure, the wonderful thing working for a nation, working in good office. For example where I worked as Director General for 11 and half years, we have lots of people, Hausa, Yoruba, Igbo- we worked as a team and as brothers. I know who you are now, you respect me, I respect you. If you don't respect me, I will not respect you, respect begets respect.
Being a monarch is a wonderful thing. In our side here, people respect the tradition, like an Emir is exclusive to the Hassan family. Once you find yourself here, you find yourself succeeding and you have reached your goal of success and it is very complimentary and I feel happy to succeed them. So I am the same person, my lifestyle has remained the same, I respect people's opinion and I am very tolerant. So I enjoyed myself as a civil servant and as an emir. I found out that leading people is a golden opportunity, to head people, you see people and you listen to them and help solve their problems. If we see anybody quarrelling, we tell him or her to desist from such act. We have peace and we are getting peace. I feel very happy.
It is a statement of fact that being the Emir of Nasarawa you are a very busy person, how do you put off stress?
As soon as you go to Abuja now, I am going to my bedroom. I am going to lie down and rest, here our people are very nice; they come to the palace by 10am and leave by 2pm. Most times I am resting. Sometimes, I drive in a car; I drive round, (cuts in)
Do you drive?
No, laugh, I don't drive because I am not a good driver, although, I can drive but we have drivers in the palace, we have cars in the palace. Although sometimes back, I do drive but I stopped that, I can't even drive again.