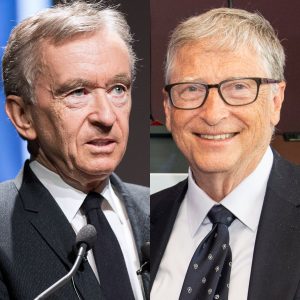 Bernard Arnault, Bill Gates 
Forbes' 2023 ranking of the world's wealthiest people has once again revealed the countries with the most billionaires. The Forbes 2023 rich list reveals that 2,640 billionaires of the world hail from 77 countries or territories.
According to Forbes,  the country with the highest number of billionaires is, unsurprisingly, the US. The United States of America has 735 billionaires – same as last year, according to Forbes. While the US cannot claim to be home to the world's richest person – that honour goes to France with Bernard Arnault – it is home to the likes of Elon Musk, Jeff Bezos and Bill Gates.
LeBron James and Tiger Woods were among the 50 people who joined the billionaires list for the first time this year, even as Sam Bankman-Fried, Kanye West and dozens others dropped off.
The country ranking second in terms of the number of billionaires it has produced is China. This year, China is home to 495 billionaires, a not-insignificant drop from last year's 539 Chinese billionaires.
The third place in the rankings went to India with 169 billionaires. Indian billionaires have a collective net worth of $675 billion, according to Forbes – but that's still a drop of $75 billion from last year. The biggest reason behind this could be the dramatic plunge in the net worth of Gautam Adani, who lost nearly $43 billion alone in the aftermath of the Hindenburg report.
Germany became the country with the fourth-most billionaires. Germany has 126 billionaires this year as compared to 134 last year. The country's richest person is the owner of the Schwarz Group, Dieter Schwarz, with an estimated net worth of $42.9 billion.
Rounding up the rankings is Russia with 105 billionaires that have a combined net worth of $474 billion.