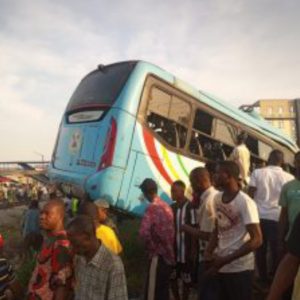 The bus
By Our Reporter
At least four persons were feared dead as a Lagos State staff bus rammed into Train in Shogunle area of Lagos State.
An eyewitness, Abiodun Olasunkanmi told NATIONAL WAVES that the driver rammed into the train inspite of seeing the red flag.
" The driver saw the red flag, he saw the train coming yet he rammed into it.
Olasunkanmi continued, " Efforts by officials of the Nigerian Railway Corporation to stop the driver from ramming into the train failed as he ignored the officials and sped towards the train"
"Four people were dead and laid down. The driver was not injured. Onlookers wanted to lynch the driver but the police came to his rescue"
NATIONAL WAVES gathered that the incident happened when the staff bus was on his way to Alausa, Lagos Secretariat.
See video of the said bus