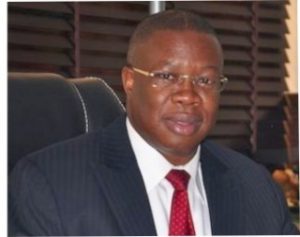 It is a thing of joy as a distinguished lawyer and former member of the House of Representatives celebrates golden jubilee.His records as a politician are superlative as he was known for the effort he made towards the growth of the nation and the services he rendered to humanitarian develpoment in Nigeria through his dedication,contribtions and vast knowledge. Last week, National WAVES' Racheal Joseph took him on his life at 50 and his activities as a former legislator. Excerpts.
Sir, how do you feel being 50years old?
am very happy to be 50 because some years ago from statistics, in this country, it has been proven that the life span for men is 46years while women live up to 48years.Thank God the statistics has changed to 52years for men and 54years for women. I really appreciate God that I am alive and healthy.
What are your plans as it concerns politics?
Like I will always say, every man is a political animal. For now, I think I will be concentrating on my profession as a lawyer which my clients are so happy with. As 2015 approaches, I will consult my friends and family to know what role one can play in nation building.
What is you assessment of the ruling ACN party in your state?
I am not in a position to make that assessment but what I see is that there are new roads which are being built, new drainages being constructed how solid the changes are I don't know .As for me, I am not ready to partner with any cosmetics change except I see scientific prove.
What were the bills you sponsored and which one was to you sancrosanct?
There were many bills which I sponsored but the most strategic bill was the ability to provide arms for the civil defense corps. I had to sponsor that bill so that they may have arms to protect themselves. I also sponsored a bill for the operation of mega stations which has eased a lot of masses suffering because they sell at controlled price even during scarcity. I was also able to sponsor the gele-gele project which has helped empower the youths in my state.
There are speculations that you had concluded plans to run for the senate what went wrong and why did you jettison your plans?
I wanted to run for the senate in year 2011 though I had been in the parliament from 1999 till 2011.Considering that politics has taken me far from my profession and most importantly my family, I decided to take a sabbatical.
What is your greatest achievement as a lawyer and a three time House of Representatives member?
My greatest achievements when I was in the House of Representatives were the several contributions, in terms of overall performance which has brought forth great outputs. I contributed to several debates which have given birth to development and growth. I chaired so many committees which we used in changing the society. I also helped to ensure that budgets were not mere estimates but were implemented. I made sure that I had a satisfactory tenure that till date I am being recommended for them.
What was your greatest challenge as a House of Representatives member?
My challenges were in phases first and foremost, the lack of infrastructure.Secondly, lack of adequate secretariat and technical backup. We didn't have experienced backups. Most Personal Assistants and Special Assistants were based on reward rather than knowledge and experiences.
If given the opportunity to be a House of Representatives member again what would you love to change?
It is not likely I become a House of Representatives member apani but if I were to be again, I will change the parameters of electing members into the parliament. I will insist that it should be a minimum of a college degree because it is from the parliament that the cakes are being baked. Therefore, the quality of the member determines the output. I will also like to sponsor a bill to improve the quality of education in the country  because the standard of education has fallen which is affecting the contributions made in parliaments.
What is your assessment of this present House of Representatives compared to the administration you worked with?
I think the present House of Representatives have a lot to do, though I am very proud of them.
If you are given the opportunity to advise the federal government on security and economic issues, what would your advice be?
The federal government should maintain a very high level of discipline to enjoy a better economy. I would say that most of the expenditure should be capital expenditure rather than recurrent expenditures. Moreso, a government that doesn't care about the status of anybody before making judgments is heading right to the top.
How were you able to combine working as a Reps member with your family roles?
I will say it wasn't easy but there was a balance between catering for my family and running politics. In politics, I made sure that I executed whatever I wanted to achieve to the best of my ability with my conscience attached because I will never waste my time or the resources of the people on myself.
What would you like to be remembered for?
I will like to be remembered as the man who always spoke the truth, the man was punished severally by political leaders for the truth. Indeed, I will like to die by the truth which I spoke while I was alive. Conclusively, I will say that the beautiful ones are yet to be born.