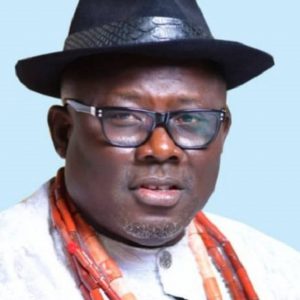 Hon Sheriff Oborevwor
By Our Reporter 
The gubernatorial candidate of the Peoples Democratic Party (PDP), Hon Sheriff Oborevwori, has been attacked twice in less than two months.
The first attack was happened on Wednesday, January 11th, 2023, when he escaped attempt on his life by assassins who disguised as police officers.
They opened gun fire on his convoy along Warri/Sapele highway, while he was on his way to Koko, Warri North Local Government Area of the state for the commissioning of the ultra modern floating market, Ogheye.
The latest attack was last Monday, some gunmen reportedly ambushed his convoy along Warri/Sapele highway and opened fire on them.
Oborevworii, who is also Speaker of the Delta State House of Assembly, revealed the latest attack in a statement on Tuesday by his Chief Press Secretary, Mr Dennis Otu.
The statement said the Speaker was returning from Sapele to Osubi when his convoy was attacked.
The statement read, "The convoy of the Delta State PDP Governorship Candidate, Rt Hon Sheriff Oborevwori on Sunday, March 12th, 2023 came under heavy attack from unknown gunmen between Elume junction and Okuabude in Okpe Local Government Area of the State.
"The car which he was driven in and security vehicles attached to the convoy were riddled with bullets in the incident that took place at about 9:05pm.
"He had gone to Sapele for political meetings and on his way back to Osubi, the unknown gunmen ambushed the convoy and launched a heavy attack on him, spraying his car and back up vehicles with bullets. Only the grace of God and the fact that he was riding in a bullet proof car saved the life of the leading governorship hopeful in the state.
"His brave security men rose to the occasion by engaging the suspected to be assassins in a duel which lasted over 10 minutes before the gunmen took to their heels and disappeared into the thick darkness of the night. Although no life was lost, one of the security men attached to the PDP governorship candidate sustained injuries. The matter has been reported to the Police for further investigation.
"This is the second time suspected assassins have made an attempt on the life of the Delta State PDP Governorship Candidate for the 2023 governorship Election, Rt Hon Sheriff Oborevwori.
"The first was on Wednesday, January 11th, 2023, when he escaped attempt on his life by assassins disguised as police officers opened gun fire on his convoy along Warri/Sapele highway, while on his way to Koko, Warri North Local Government Area of the state for the commissioning of the ultra modern floating market, Ogheye."