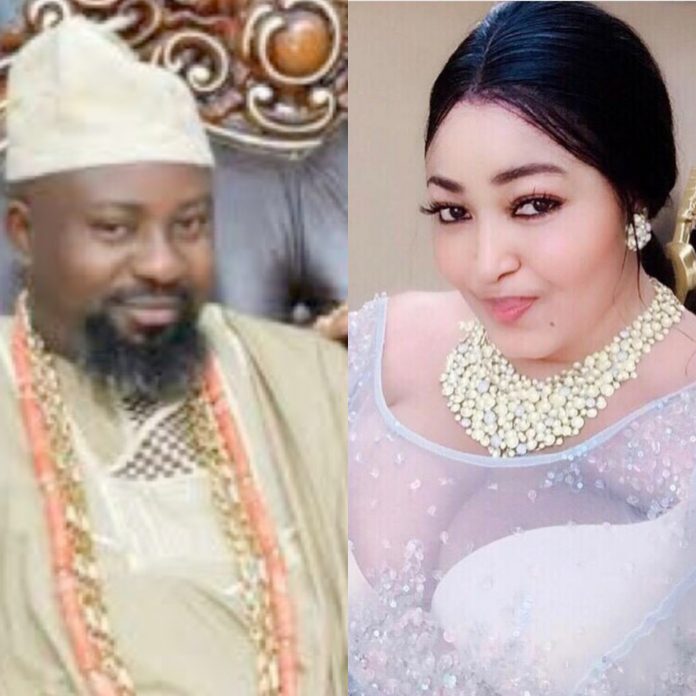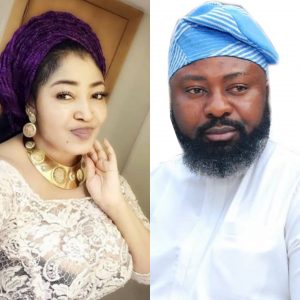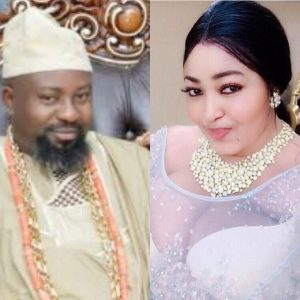 Ademola Eletu-Odibo and Bimbo Kashamu
—– Kicked Out His Own Wife & Children!
—–Why He May Never Be King Of Itele-Ota
By Our Reporter
The aspirants to the coveted throne of Onitele of Itele-Ota in Ogun State, Prince Ademola Eletu-Odibo appears to be making things difficult for himself with the current allegations trailing his marital life.
The Lagos Big Boy is allegedly entangled in wife snatching saga with his romance with Bimbo Kashamu, the estranged of another Lagos happening guy, Yomi Folawiyo.
Sources squealed that Bimbo has finally packed into Demola'a house and that the two now live as husband and wife
It was alleged that Demola believes that Bimbo would make a good queen if he eventually becomes the next Onitele of Itele Kingdom, and this we were told caused him to send his wife of many years and mother of his two children, Labisi packing and the woman is currently in the United States of America with her children.
Sources alleged that Demola, who we were told might not be allowed to mount the traditional stool, has been going around telling everyone that Bimbo would be a good queen and that he has all the qualities required for the obaship office.
The allegation that Demola sent Labisi away was however, denied by some sources close to him, who insisted that Labisi actually relocated to the United States of America and that this had nothing to do with his romance with Bimbo.
According to them, Labisi decided to pack up the marriage when she could no longer bear heat generated by unhealthy relationship, the source revealed that Demola had virtually nothing when she got married to him.
One other detail about the alleged romance between Demola and Bimbo was that they started going out together, while the latter was still under the roof of Yomi Folawiyo, her former husband.
"Demola and Bimbo became an item many years back and we can tell you authoritatively that they are deep in the relationship.
"Their romance even started before Bimbo left Yomi and Demola had no choice but to send his wife of many years and mother of his two children away all because of his romance with Bimbo," said a source.
We gathered that after dumping Yomi, a son of the late Baba Adinni of Nigeria, Alhaji Wahab Iyanda Folawiyo and labeling him a debtor and dead-beat dad, Bimbo withdrew into her shell, but intensified efforts in taking care of her kids and expanding her skincare business.
Bimbo was later romantically linked with a popular pastor reported to be spoiling her silly. It didn't take a long time before they parted ways.
In 2019, news filtered into town that Bimbo was having an affair with Demola Eletu, a businessman.
It was alleged then that the love between the two was so 'hot' that Demola sent his wife packing from their matrimonial home. His wife was said to have relocated to the United States with her children.
Bimbo and Demola's romance became intensified that they recently stepped out together publicly as he finally engaged her on her birthday. The occasion was witnessed by close friends and Bimbo's two girls.
Since the engagement, Bimbo has been addressing herself as Queen Bimbo Kashamu Eletu. She even shared the good news on social media.
On her Instagram page, she wrote..
"I Said Yes!!!!!💍💎My King asked for forever from mi…To be His Queen, his Wife, ….Mrs Abimbola Ademola Eletu till Eternity…All dis happened on my birthday night….I taught (sic) we were goin for just normal Quite dinner😲I got there and met so many people who knew about the surprise Except mi….I was gobsmacked!!!!! I ran out seeing roses all over the place am like wait, what!!!!! He promised My daughters dat he would Love&Adore their mother till she is Grey….it was the most emotional day of my life….he put a ring on it!!!!! Yes A Gorgeous huge rock Encrusted n Diamonds & intense Yellow Sappire💛🤍💍🙈" (sic).
They have had a traditional wedding and an excited Bimbo has been sharing posts of the various luxury items she bought for herself. Now the Osi Iyalaje of Awori land, she dresses like a queen.
Bimbo was married to Yomi Folawiyo for five years before she left the marriage.
According to her, Yomi who is also the Chief Operating Officer of Folawiyo Group, didn't enrich her in anyway.
She alleged in an interview with City People magazine, "Lots of people say that I got married to him because of the money. I don't understand why people will think like that.
"I am also from a very rich family. Money is not a problem in the family I come from. All that I achieved today is as a result of my father's efforts, my mother and my uncle, Buruji Kashamu, all assisted me in business.
'Yomi can never say that he had assisted me in business. It is whatever he brings home that we manage, as his wife. It is not like he has a company or his own personal house.
"He works in his father, company. It is not like I have access to anything directly from him. It is not like I can walk into their company and say that I want this."
On the Obaship, recall that the Ogun State House of Assembly Committee on Local Government and Chieftaincy Affairs, has warned Ademola Eletu Asorota to desist from parading himself as the Oba-elect of Itele Ota in Ado-Odo/Ota Local Government Area of the state.
The House Committee led by Bolanle Ajayi, issued the warning during a meeting with representatives of Adogun Atele Family, led by Chief Taoreed Liasu, on issues concerning the stool of Onitele of Itele-Ota, as part of the Assembly's quasi-judicial function, held at the Committee Room, Assembly Complex, Oke-Mosan, Abeokuta.
The meeting also had in attendance the legal counsel of the Adogun Atele Family and that of Olota of Ota, Idris Balogun and Olaotan Ayodeji respectively, Director, General Services and Administration, Ado-Odo/Ota Local Government, Dada Oloruntoba and other principal staff of the council.
Ajayi, assisted by her committee members and other lawmakers, including Solomon Osho, Yusuf Adejojo, Abdul Bashir Oladunjoye, Ganiyu Oyedeji, Musefiu Lamidi, Adams Isaac, Yusuf Amosun and Damilola Soneye, directed all parties concerned on the Obaship issue, including the state Ministry of Local Government and Chieftaincy Affairs and Olota of Ota, Oba Abdulkabir Obalanlege to stop all ongoing actions pending the delivery of judgment of an on-going suit on the matter before a court.
The lawmakers admonished the residents of Itele community, through the Adogun Atele Family, to continue to promote peaceful co-existence amongst residents of the community and forestall any act that could lead to the break down of law and order in the area.
Head and principal members of Adogun Atele family, comprising of its four ruling houses had earlier vowed to resist plans by any individual or group to impose a traditional ruler on the community to achieve a hidden agenda.
Specifically, the family accused the Commissioner for Local Government and Chieftaincy Affairs, Ogun State, Moruf Afolabi Afuape, and Oba Obalanlege of scheming to impose a non-indigene on the stool of Onitele of Itele Awori, Ota, Ogun State.
The family in a letter, dated August 9, 2021, written to the Chairman, House Committee on Local Government and Chieftaincy Affairs, Ogun State House of Assembly, accused ministry officials of planning to sell the stool of Onitele to one Ademola Asorota, whom they claim is a stranger to the Itele family.
The letter signed by Chief Taoreed Muhammadu Dada, Pa Nurudeen Akanbi Alimi Akapo, Mr. Sunday Mathew Taiwo Owotolu and Alhaji Monsuru Oseni Yusuf, on behalf of all the ruling houses, urged the Ogun State House of Assembly to intervene and prevent avoidable bloodshed in Itele.