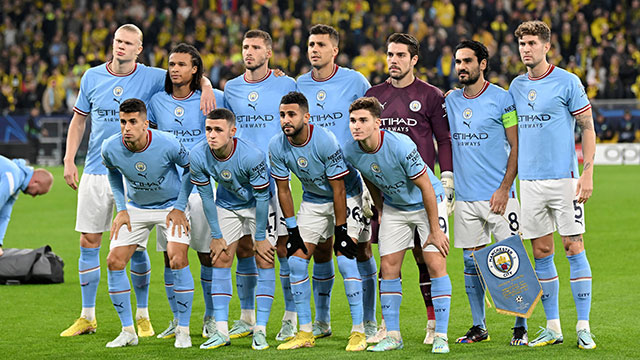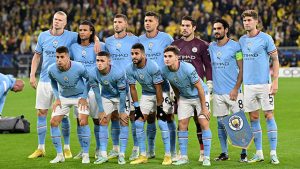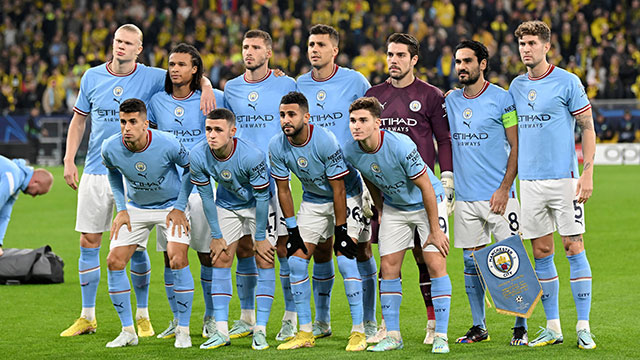 Manchester City squad 
By Our Reporter 
It was popping of champagne at Manchester as Manchester City won the third successive Premier league title.
The club was crowned Premier League champions for the third year in succession.
This was nade possible with Arsenal's 1-0 defeat away at Nottingham Forest.
With this development, City now have an unassailable lead with three matches left to play.
Manchester have won the Premier league for the fifth time in six season under the watch of Pep Guardiola.
Manchester City may win the FA Cup the 13th time when it meet rival Manchester United in the FA Cup final at Wembley on June 3.
That match will be followed by a UEFA Champions League final against Inter on June 10, the second time in three seasons.
Manchester City are in top form having won 27 out of the 35 matches played so far this season.
The club has scored 92 goals, collecting 85 points.
City are only the fifth club in the history of English football to win three top-flight titles in a row after Huddersfield Town (1924-1926), Arsenal (1933-1935), Liverpool (1982-1984) and Manchester United (1999-2001 & 2007-2009).
City will now start the 2023/24 campaign with the tantalising prospect of becoming the first in history to win the English top-flight four years in succession.