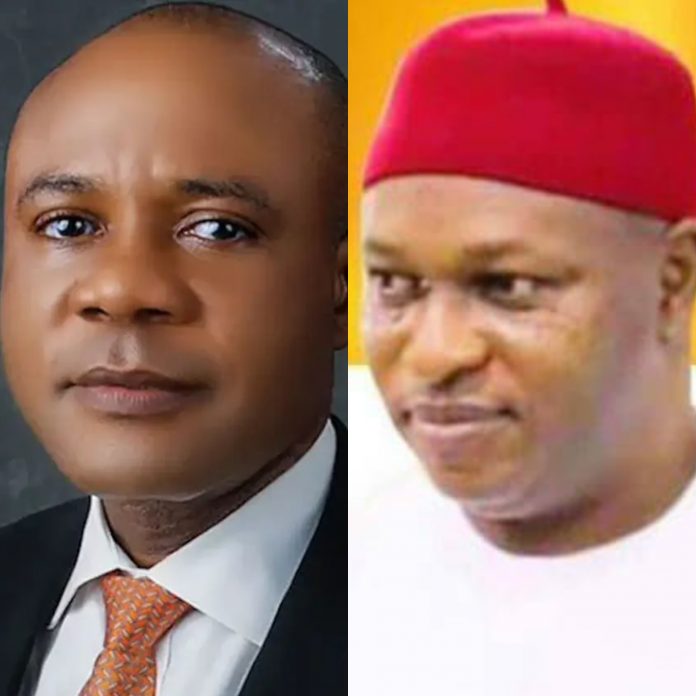 Peter Mbah, Chijioke Edeoga 
By Our Reporter
Two days ago, news filtered out of Enugu, that the Independent National Electoral Commission INEC  had announced the results of the 2023 governorship election in the state and declared Peter Mbah of the Peoples Democratic Party PDP the winner.
This was later found out to be untue as INEC  suspended the collation of results, following a petition by the governorship candidate of the Labour Party (LP), Chijioke Edeoga.
Collation of results in the 17 councils, which started on Saturday, had gone on into midnight on Sunday, when the Labour Party LP brought up allegations of discrepancies and irregularities in the conduct of the election at Nkanu East Council, which returned over 30,000 votes in favour of PDP candidate, Peter Mbah.
The party had complained that while the Bimodal Voter Accreditation System (BVAS) accredited 7,000 voters in the area, over 30,000 actually voted, stressing that the development was inconsistent with stipulated laws guiding the conduct of the exercise and called for a review.
The observation held up the exercise for some time as agents of different political parties threw up arguments in favour or against the issue, leading to the state Collation Officer, Prof. Ofo Iwe, asking parties to put their position in writing and submit to his office before 8: 00 a.m., yesterday. He, thereafter, adjourned to continue, yesterday.
However, Edeoga had, on Sunday, written and submitted a petition to the commission where he alleged serial irregularities and fundamental flaws in the conduct of the governorship election, particularly concerning Nkanu East Council of the state.
He had alleged non-usage of BVAS in the conduct of the election in the council.
When the Enugu Collation Office reopened, yesterday, the state Collation Officer, Prof Iwe, told party agents, observers, journalists, among others, that the matter had been escalated to INEC headquarters, Abuja, adding that he received a complaint from another political party concerning the conduct of election in Nsukka, as well as another, supporting the outcome of the process in Nkanu East.
Iwe, however, stated that he would not continue with further collation, citing a statement from Abuja headquarters of the Commission over the Enugu State gubernatorial poll.
He added that he had not declared the PDP candidate, Peter Mbah as the winner of the  election.
INEC may have resolved issues surrounding the discrepancies and may continue with the collation of results soon.