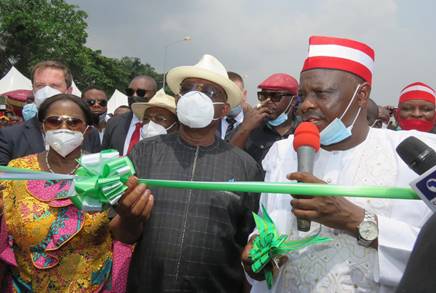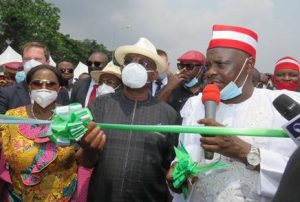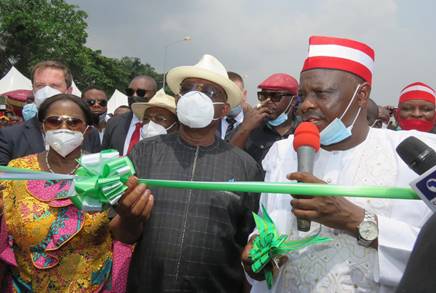 Former Governor of Kano State , Senator Rabiu Musa Kwankwaso, commissioning the Rumuogba 1&2 Flyover in Port Harcourt City in company of the Governor Wike, Deputy Governor, Banigo and Julius Berger's MD, Engr. Dr. Lars Richter and other Dignitaries recently
By Our Reporter
Former Executive Governor of Kano State and Former Minister of Defence, Senator Rabiu Musa Kwankwaso, a Fellow of the Nigerian Society of Engineers (FNSE) and a Fellow of the Nigerian Institute of Quantity Surveors (FNIQS), has advised all clients of the engineering construction sector in Nigeria to wisely avoid the huge error of judgment by which some say Julius Berger is too expensive. Julius Berger, he said, operates only the right and best engineering standards to deliver on projects they undertake..
Engr. Kwankwaso gave the clearly experiential as well as competently professional advice in Port Harcourt Rivers State where he commissioned the Julius Berger-constructed Rumuogba 1 & 2 Flyover as Special Guest of Honour of the River State Government at the ceremony which held on Tuesday 2nd March in Port Harcourt.
The former Governor recalled that during his two tenures as Governor of Kano State, he had also employed the services of Julius Berger as contractor to achieve the successful construction of three major infrastructural projects, all of which are still standing strong as an eloquent testimony of the brilliant, premium international quality, sturdy and reliable Julius Berger enginerring construction standard. He congratulated the Rivers State Government for its wisdom in procuring Julius Berger for its infrastructural development projects in Port Harcourt. Kwankwaso, in his rigorous professional engineering assessment, confidently referred all clients of the construction sector in the country to the Central Area of the Federal Capital Territory Abuja where infrastructure constructed or built by Julius Berger are still standing strong and in excellent condition about three decades after being commissioned for public use.
Kwankwaso's position was further affirmed by the former Governor of Katsina State, His Excellency Ibrahim Shehu Shema who also extolled the technical virtue and durable integrity of Julius Berger's engineering works.
On his part, the host of the infrastructural projects commissioning events in Port Harcourt, the Executive Governor of Rivers State, His Excellency Ezenwo Nyesom Wike, CON, sadly recalled how a particular road contract was very mistakenly denied Julius Berger some years earlier in Rivers State in preference for a lower bidder. According to Governor Wike: ""I know a road that Julius Berger bidded for and one other company bidded for as well. Julius Berger's bid for that road was N14 billion, and then the other company which I will not mention bidded for N6 billion. Now, we said well, let's give it to the company that bidded N6 billion. And we did not give Julius Berger. That was not my Administration, but I was in the Administration then. At the end of the day, we spent over N20 billion in doing that work. So, from the onset, if we had given it to Julius Berger, it would have been better for us." Governor Wike added that, "…it would have been a whole lot much more prudent, cheaper and with definitely better quality results if Julius Berger's bid was accepted and the contract awarded accordingly; it was a big lesson on how painfully costly the cheaper option without a reliable history or pedigree of performance can eventually be in choosing a contractor for serious engineering construction works, and we have no intention of repeating such mistakes". Governor Wike further added: "…that bitter experience has taught us that, in the long term, Julius Berger and its tested and provenly excellent project delivery processes as well as its long-earned and continuing engineering reputation and  integrity, indeed, saves all of us from the nightmares of project disruption, failure and consequential cost overruns. Rivers people deserve the best infrastructure, and we will continue to use the best, Julius Berger, to give the Rivers people only the very best."