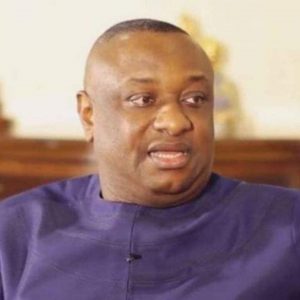 Festus Keyamo
By Our Reporter
Minister of State for Labour and Employment, Mr Festus Keyamo, SAN, has said that allegations made by the Peoples Democratic Party (PDP) that the All Progressives Congress (APC) would influence the verdicts of the judiciary regarding the last Presidential election is nothing but reverse psychology and cheap blackmail.
Keyamo disclosed these in a statement he personally signed and made available to NATIONAL WAVES
The statement read "The PDP's Press Conference today, making all sorts of allegations regarding an alleged plan by the APC to influence the outcome of the Court's proceedings in the Presidential Election Petitions over which hearings would begin tomorrow in Abuja is nothing but just hot air.
"PDP and its sister company, the LP have been the ones sponsoring surrogates to 'speak out' against the outcome of the largely free and fair 2023 Presidential elections when their cases are still pending in Court. That is contempt of court and we are within our rights to correct the wrong impressions about the elections being created before Nigerians and the international community. How they see that as 'attack' is comical
" In fact, these Siamese twins of PDP and LP (we all saw Obi genuflecting before his boss, Atiku, yesterday in Yenagoa) are the ones issuing veiled threats to our judiciary and judicial officers, either by themselves or through their surrogates, be they in religious circles or in civil society or the labour unions. So, by pretentiously raising this so-called alarm, they are playing a game of 'reverse psychology'.
"In all the States where the PDP won and the LP also won (both Senate, Governorship and the others), INEC have filed their responses in court defending those declarations of the winners as correct. To the uninformed, they should be alerted that it is the legal duty of INEC to stand by their declarations in court and what they are doing in the case of APC in the Presidential Election Petition is not strange. They should have also queried INEC for defending them in those States where they won"
"This panic Press Conference today is a clear attempt by the PDP to play to the gallery. Instead of going to the Court tomorrow to begin to prove its case, it has resorted to cheap and emotional blackmail. The allegations are infantile, lacking in substance and devoid of proof. Nigerians should dismiss them with a wave of the hand, please" Keyamo stated with a note of finality.