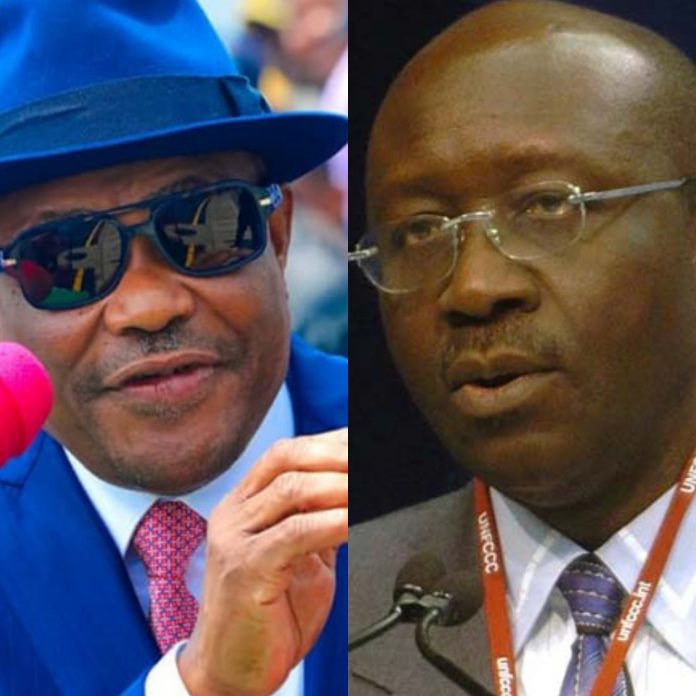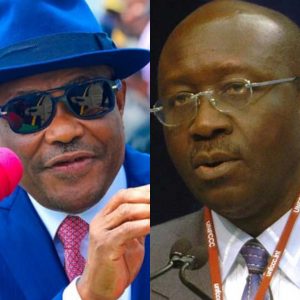 Governor Nyesom Wike, Senator Iyorchia Ayu
By Our Reporter
'Just like Prince Uche Secondus, former chairman of the Peoples Democratic Party (PDP) who was suspended and never returned, you are gone forever' those were the words of Governor Nyesom Wike of Rivers State to Senator Iyiorcha Ayu who was replaced yesterday.as the chairman of the PDP.
Wike mocked Ayu while inaugurating the Trans-Kalabari Road at Degema Krakrama Bridge, Degema Local Government Area (LGA) on Tuesday.
Wike said Ayu would never return to that office again.
"Ayu said nobody can suspend him but today, he has packed out from the national office. We have an acting chairman. I told him he would go.
"Those lawyers telling you the ward has no power to suspend you, that only National Executive Council (NEC) can, then you don't understand what is happening. When you came, it was the ward that suspended Secondus, and you went and took office, is it not?"
"So, is it now that you know that it is only NEC that can suspend you? Let me tell you, since they've not told you, the court has struck off that section of our constitution that says it's only NEC can suspend a chairman. So, forget it, you are gone. You are wasting your time.
"Look at it, a national chairman, your own ward will be suspending you. Does it not tell you that you are not on the ground? Your own ward will be suspending you and you go to television to say only NEC can suspend you. Stay, wait for NEC, but then know that you're gone."
"Ayu, the man you supported for president, you didn't give him a vote, he lost. We supported a Southern president and we won in our States for equity, justice and fairness. A man who lost his unit, a man who lost his ward, a man who lost his local government, a man who lost his State and he is coming to preside over us who won our units, won our wards, won our local governments, won our state, something must be wrong.
"You cannot reap where you never sowed. If all of us have lost our States, what will you be chairing? You want to use Rivers State to be chairman, we are not a party to that. Go and bring your own local government.
"Here, we won 32 over 32 seats for House of Assembly, Ayu, how many did you win? Here, we won the 3 seats for the senate too, Ayu, how many did you win? We won 11 out of the 13 seats for the House of Representatives, Ayu, how many did you win?"