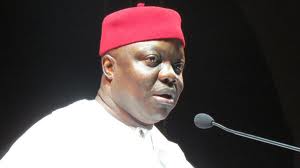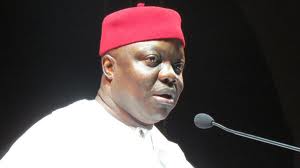 As Dr. Emmanuel Uduaghan, the executive governor of Delta State, sets to complete his tenure  May 27, 2015, the question that has been pertinently asked by majority of Deltans is who will sustain and consolidate the unprecedented strides of the dynamic governor. So intense is the pressure associated with who takes over the affairs of the state that the pious governor has resolved to seek the face of God. The race for the Delta State plum job has been taken to a breezy height. There seems to be an unwritten agreement that the next governor of the state will come from the northern senatorial district hence the much trumpeted Anioma Agenda. In this report, National WAVES publisher, Jimmy Enyeh and South South Bureau Chief, Tony Campbell give a background of those who are currently nursing the ambition to take over from the hardworking governor.
Ngozi Juliet Olejeme
This effervescent woman is presently the boss of the Nigeria Social Insurance Trust Fund (NSITF). She got the appointment in June 2009 through the late President Umaru Musa Yaradua. She is also a topnotch of the Goodluck Support Group, a body set up to back the president. Olejeme has set up a Non-Governmental Organisation (NGO) – the Ngozi Olejeme Foundation – to cater for the less privileged in the society. She contested the PDP gubernatorial flag in 2007. The NSITF chairman has Honorary Doctoral Degree from the American Heritage University of Southern California (Doctor of Public Policy, Honoris Causa) among several others. In major cities of Delta State, Olejeme's posters and billboard indicating her interest in the plum job are so conspicuous. She relies on her contact in Abuja to realize her dream. Her major albatross is her gender. Will Deltans succumb to pressure from the federal capital city to have its first female governor? Only time will tell
Ndudi Godwin Elumelu
The debonair lawmaker hails from Onicha-Ukwu in the Aniocha North Local Government Area of Delta State. He obtained a National Diploma in Business Administration from the Yaba College of Technology in 1989. He later bagged a Bachelor of Science (Hons.) in Accounting & Finance in 1993 before his Masters Degree in Business Administration (MBA) with specialization in finance in 2001. He is a member of the Chartered Institute of Bankers.He got elected into the House of Representatives in 2007 to represent Aniocha/Oshimili Federal Constituency. For impacting on the lives of the people of his constituency, he was conferred with the title of Odozi Ani (the one who makes things better) of Oko, in Oshimili North LGA of Delta State. Elumelu, National WAVES learnt, is supported by his brother, Tony Elumelu, the astute banker who has the ears of the power that be in the state.
Barrister Obarisi Ovie Omo-Agege
He hails from Ughelli North LGA in Delta State, Nigeria. He is a product of the University of Benin. He has always shown interest in governing Delta State since 2007 but has not been able to muster enough votes and support to actualize his dream. Going by the speculation that the governorship seat has been zoned to Delta North, Barrister Omo Agege may find it difficult to emerge the next Delta State governor.
Elder Godsday Orubebe
Elder Godsday Orubbebe's interest to become the next governor of Delta State may be the major reason why he was relieved of his job as the Minister of Niger Delta. He is of Ijaw extraction from Ogbobagbene in Burutu Local Government Area. He has a B.Sc in Political Science from the University of Lagos and a Masters Degree in International Relations from Ambrose Alli University, Ekpoma. Orubebe was a Supervisory Councilor, and later, Chairman of Burutu Local Government Council. In July 2007, President Umaru Yar'Adua appointed him Minister of Special Duties. Later, he became Minister of State for Niger Delta Affairs when that ministry was created in December 2008. He was appointed Nigerian Minister of Niger Delta on 6 April 2010 by the then Acting President, Goodluck Jonathan. He is currently traversing the nooks and crannies of the state campaigning to take over from the incumbent governor.
Nwaka Tony Felix Emeka
He is the Commissioner for Special Duties and hails from Ogwashi-Uku in Aniocha South LGA. He is a product of the University of Lagos where he got a B.A. History (1987); Nnamdi Azikiwe University, M.A. Political History (2005) and Ph.D (2009). He served as the Commissioner for Local Government Affairs, 2007 to 2009; Chairman, Association of Local Governments of Nigeria (ALGON) Delta State, 2004 – 2007; Chairman, Aniocha South Local Government Council, 2004 – 2007 among many other political cum appointive positions. He also has a chain of awards to his honour. He is married to Abimbola from Lagos State with children and holds the chieftaincy title of Ide of Obior.
Great Ovedje Ogboru
Talking about one politician who has consistently contested the Delta State governorship election and Great Ovedje Ogboru will readily come to mind. He hails from Abraka in Delta Central. He attended Government College, Ughelli. On graduation in 1975 he became a teacher. He did his Advanced Levels and scored good grades in 1979. He was admitted into the Government College, Ughelli in 1971 and graduated in 1975.
He relocated to Lagos in 1980 and by 1983 he established a fish trading company – Fiogret Limited. In 1990, the then military president, General Ibrahim Badamasi Babangida (IBB) accused Chief Ogboru of being the financier of the military uprising against his administration and thus, Ogboru was declared wanted. On the strength of this, he went on self exile. He returned to the country 10 years later, having been pardoned by the General Abdulsalam Abubakar regime a year earlier.
In 2007 and 2011 he contested the governorship poll on the ticket of the Democratic Peoples Party (DPP) but lost to Dr. Uduaghan on both occasions.
National WAVES investigation revealed that it will be difficult for the opposition to wrest power from ruling the Peoples Democratic Party in Delta State. This is on account of the unprecedented achievements of Dr. Emmanuel Uduaghan .
Victor Onyekachi Ochei
He was the Speaker of the Delta State House of Assembly and hails from Ogbekenu, Onicha-Olona in Aniocha North Local Government Area. He was born in Kano where he had his early education. He graduated in Chemical Engineering from the University of Benin where he also earned a Master of Business Administration (MBA) in 1996. He also holds a Master of Science, (MSc) in Corporate Governance from the Leeds Metropolitan University, in the United Kingdom as well as a certificate from the Harvard University of Education on improving Secondary School Education.
He has been in the House of Assembly since 2003. He became speaker in 2011.His posters indicating interest in the Delat State plum job is conspicuously pasted in Asaba and other notable cities of Delta State.
Amos Agbe Utuama (SAN)
He is the deputy governor of Delta State and hails from Otu-Jeremi, in Ughelli South Local Government Area. He was called to the Nigerian Bar in 1978. He holds the academic and professional qualifications of LL.B (Hons), LL.M. and Ph.d. from the University of Lagos and B.L. from the Nigerian Law School, Lagos.Professor Utuama was the Attorney-General and Commissioner for Justice of Delta State from 1999-2007.
He is a member of the Chartered Institute of Arbitration in the UK and a fellow of the Nigerian Institute of Town Planners (FNITP). He is an author of over 100 publications, and has earned many recognitions, honours and commendations. Although, he has not made his intention public, pressure was said to be on him to contest the governorship position.
Anthony Tosan Prest
He is the scion of the late Chief Arthur Prest who was the Olorogun of Warri and the second Itsekiri person to become a lawyer. His father was one of the founders of the Action Group where he was the deputy leader under Chief Obafemi Awolowo for 10 years. He later became first, Minister of Communications in Nigeria. Tosan who is from Warri is a product of Mayflower Secondary School, Ikenne, owned by the late Tai Solarin. From there he proceeded to Lansdowne College in Kensington, London. On his return to Nigeria, he attended the University of Benin. He is a businessman with interests in marine, entertainment, tourism, boats and cruise, telecoms and fishing among others. National WAVES gathered that Chief Prest is widely consulting those who matter in the state over his ambition to govern Delta State.
Festus Keyamo
He came to prominence on account of being a human rights activist and radical lawyer. He is the brain behind Delta Frontiers, the grassroots political mobilization group campaigning for his ascendancy to the Delta State Government House. He contested the All Progressives Congress (APC) Delta Central senatorial primaries last year but was edged out. Young and vibrant lawyer is said to have returned to the drawing board to strategize on his gubernatorial ambition.
Prince Sam Onyekachi Obi
He has variously been former speaker of the Delta State House of Assembly and Acting Governor of the state. He also presides over one of the Pentecostal churches in the state's capital. It is alleged that he told his congregation some time ago that he has been spiritually ordained to take over from Governor Emmanuel Uduaghan in 2015. Prince Obi, National WAVES gathered, has embarked on ceaseless prayesr and marathon fasting to ensure he becomes the next governor of Delta State.
Ned Nwoko
Smooth talking Ned Nwoko hails from Idumuje-Ugboko in Aniocha North LGA, Delta State. He is a London trained lawyer. He was elected as a member of the House of Representatives in 1999 to represent Aniocha North/South and Oshimili North / South Federal Constituency of Delta State. While in the House of Representatives, Ned Nwoko was an active member of several committees including: Aviation, Defence and Foreign Affairs Committees. He was also the Chairman, Nigeria Civil Aviation Authority and Leader, Millennium Group- (House of Representatives) – a group dedicated to fostering closer ties with the public, legislators and the executive. He is the recipient of several awards both from his immediate constituency and the national community. He contested the governorship position in 2003 under the All Progressive Grand Alliance (APGA) banner but lost. Intrigues heralded his loss of the Delta North senatorial district polls in 2007 and 2011.
For Ned, contesting the Delta State governorship election is a familiar terrain as he had vied for the position before and lost.
 Arthur Ifeanyi Okowa 
In the senate where he currently holds forte, the senator representing Delta North District, he is said to have performed above average. He was at different times the Chairman of Ika South Local Government Council; Commissioner for Health and Secretary to Delta State Government. He lost the PDP governorship primaries to Dr. Emmanuel Uduaghan in 2007. Some people accused him of being a champion of tribal po
litics. Senator Okonwa is currently oiling his machinery to contest the Delta State number one position.
Kenneth Gbagi
He was Minister of Education during the Yar'Adua regime. He stirred up controversy when one of his children, a girl, gained admission to study in neighbouring Ghana during his tenure as Education minister. He is reputed to be controversial. He is of Urhobo extraction.
Festus Okubor
This fine gentleman is the Chief of Staff, Delta State Government House. He was the Commissioner for Information during the regime of Governor James Ibori. Festus Okubor is in the good books of the incumbent governor and this to a large extent may be an added advantage to him.
 Sylvester Monye
Prof Sylvester Monye is the Special Adviser to the President on Performance Monitoring and Evaluation. The amiable bloke is surreptitiously scheming and consulting to ensure he gets the mandate and consolidate on Dr. Uduaghan's achievements.
He recently admonished about 5000 stakeholders, leaders and members of PDP drawn from the three senatorial zones on the need to be patient and support Dr. Uduaghan's administration and seized the opportunity to meet the people. He is happily married to Dr. Ifeoma Monye. Monye, a professor in Economics hails from Onicha- Ugbo in Aniocha North local government council of Delta State.
He is said to rely on his closeness to Gov. Uduaghan and foremost Ijaw leader, Chief E.K Clark to realize his ambition.
Charles Emetulu
It is not out of place to say Emetulu Chukwuemeke Charles is one of the trusted, focused and reliable commissioners in the Dr. Uduaghan administration. In fact, he is one of the governor's aides who key into the developmental projects of the governor.. Charles was born on October 26, 1966 in Abbi town in Ndokwa West Local Government Area of Delta State.
After his primary and secondary education, he proceeded to the defunct Bendel State University, Abraka campus from 1984 – 1987 where he bagged the Nigerian Certificate of Education and Delta State University, Abraka in Delta State from 1989 – 1992 where he later got his Bachelor Degree in English Language Education.
After having stints with the private sector, he became political aide to the Hon. Commissioner for Commerce And Industry, Delta State from 2003 – 2005. He served in other capacities and he is currently the Commissioner for Energy in Delta State.
 Anthony Obuh
Highly revered Anthony Obuh, is the Permanent Secretary, Government House and Protocols, Delta State. He is one civil servant who sure knows his onions. Those close to him informed National WAVES that he is disciplined and humble to a fault and this explains why he is loved and adored by the people. He clocked 57 last January 27, 2014 and organized a shindig which was well attended by those who matter in the state.
Obuh is one of the civil servants in the good books of Dr. Emmanuel Uduaghan on account of his splendid disposition to official; assignment. Little wonder he was promoted from the position of Director to Permanent Secretary by the governor. Unconfirmed reports have it that Obuh May soon resign to pursue his ambition to become the next governor of Delta State.