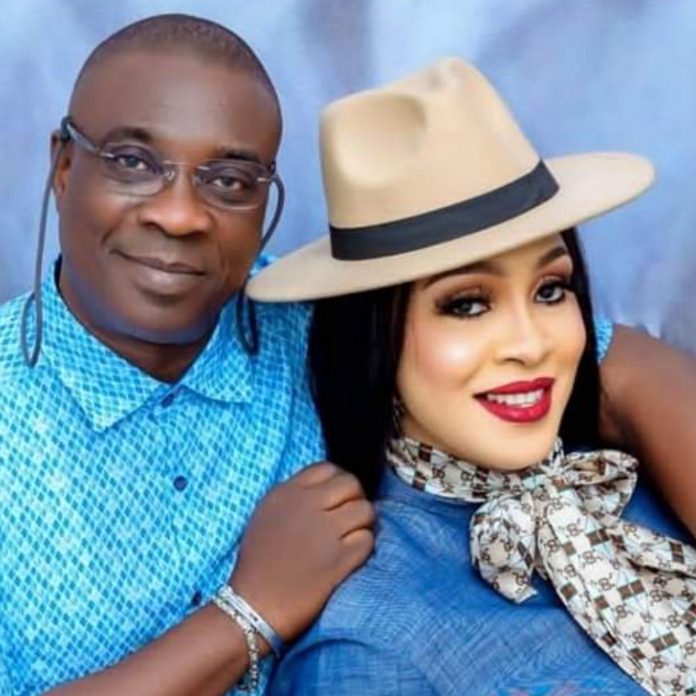 K1 and  wife, Emmanuella
By Victory Oghene 
Tongues have continue to wag as popular fuji musician, Wasiu Ayinde, who's known with the sobriquet K1 refused to kiss his wife, Emmanuella at his surprise birthday party held at the Radison Blu over the weekend.
Those close to the couple informed NATIONAL WAVES that there might be a crack in the marriage between the Mayegun of Yorubaland, K1 de Ultimate and his beautiful, wife, Emmanuella and this might be the reason why K1 refused to kiss his wife when she offerd to kiss him in public. .
In a video made available to NATIONAL WAVES, K1 was seen turning down a request by his wife for a kiss.
But a press release signed by K1's media aide, Kunle Rasheed, debunked the reports making the rounds about a crack in the marriage between K1 and his wife, Emmanuella.
The statement read "Rumour mongers have turned what ordinary was inconsequential to something they feel in their delusion, they should celebrate and spread for a gain we do not understand"
"It is rather unfortunate that these rumour spinners who thrive only in negativity should be able to see through their hate that love indeed has found a place to stay permanently in the couple's hearts. It is so evident that K1 and his wife Emmanuella love each other dearly. This should be understood by many especially those who are waiting to rejoice at any bad news about the couple,"
It further stated "Many of these gossips believe that the union will not work are in perpetual agony when they see the marriage flourishing. It engulfs them with sadness and pain so much that their daily activities is to shop endlessly for ways to transfer their unhappy mode to a couple who is constantly enjoying the bliss of their union.
We wish to say it clearly for the umpteenth time, that "Ajike Okin" and her darling husband K1 de Ultimate have mastered the way to always keep their faces toward the sunshine, so that the shadows can fall behind them. They are still sailing on that love boat with no intention to halt the sail or sink it"
Video