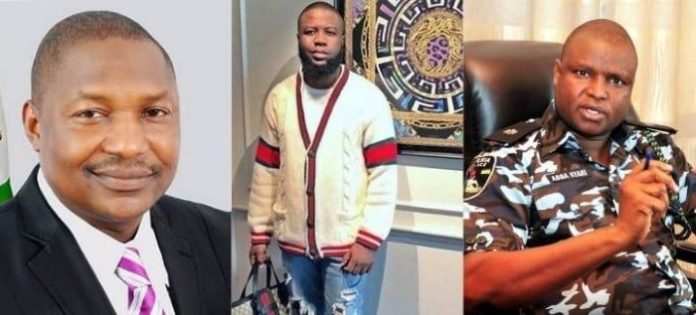 Abubakar Malami, Hushppupi and Abba Kyari 
By Our Reporter
The Attorney-General of the Federation (AGF), Abubakar Malami, has thrown more light on why he filed application to extradite the suspended deputy commissioner of police (DCP),  Abba Kyari to face fraud charges in the United States of America.
Malami gave the reasons he initiated the moves on Thursday. Malami's explanation, in a statement by his spokesperson, Umar Gwandu, came shortly after the news of the extradition application he filed at the Federal High Court in Abuja broke on Thursday.
"As you are aware, extradition is a process that involves multifaceted components," the statement said.
The minister said the extradition application was filed following a request by the U.S. authorities.
"The components are usually multi-territorial; international, local and judicial.
"Submission of request from the concerned party to the relevant authorities constitutes one of such components.
"The Office of the Attorney General of the Federation and Minister of Justice received the extradition request in respect of the officer in question," the statement read in part.
It added that the AGF office, after receiving the request, studied and reviewed it thoroughly before filing the extradition application in court.
"After thorough studies and reviews of issues regarding the application and components thereof, the office of the Attorney General of the Federation and Minister of Justice processed the application and forward same to the relevant authorities for further necessary action," the statement stated.
The extradition application is based on Nigeria's extradition law. The law requires the Federal High Court to make an order for the extradition to take effect. Some extradition cases have gone on appeal up to the level of the Supreme Court.