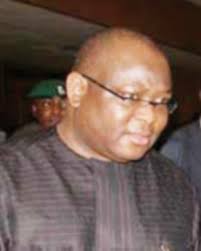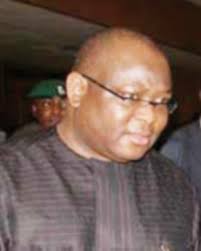 Senator Osita Izunaso is the founder of Kpakpando Foundation with Disability, a foundation set up to alleviate the suffering of physically challenged person and the National Organizing Secretary of All Progressive Congress (APC) clocked 50 recently. He organized a shindig where top dignitaries and people with disability were in attendance at International Conference Centre, Abuja.
Apart from regularly attending to the needs of these members, Izunaso host them every October 30th, (which is his birthday) to a lavish reception. On this day, items such as wheel chairs, sewing machines, grinding machine, award of scholarship to handicapped students and many more are giving to members. Izunaso spoke with National WAVES publisher, Jimmy Enyeh, shortly after the event.
What Informed The Setting Up Of The Kpakpando Foundation For Person Disability?
I conceptualized the idea eight years ago in other to touch the lives of the downtrodden.  You know the physical challenged person is downtrodden.  You know the physical challenged person is at the lowest ebb when you talk of the downtrodden. Thank God, I have consistently celebrates my birthday with these people. Instead of celebrating with the high and mighty which I have the capacity to gather, I prefer to celebrate with these set of people and to God be the glory, we have been able to contribute our quota to ensure that they are self reliant. While the event was on, you saw the female national youth service corps member who came out to pour encomium on Kpakpando Foundation for giving scholarship to study in the university. She is one of the numerous beneficiaries. We have over (1,000) one thousand members at Kpakpando Foundation and we are not resting on our oars. We shall continue to do our best to ensure that the physically challenged are motivated to be self reliant.
The general perception is that politicians in this part of the word setup NGOs to woo electorates to vote for them. How do you react to this?
Anyway, you may not be far from truth to say that, but it is a logical error to say that politicians set up NGO to woo the electorates. We still have credible coalitions and NGOs set up for genuine reasons which are set up basically to elevate the suffering of the people and make them to be self reliant. For instance, the Kpakpando Foundation for the person with disability was not set up to woo the electorate. It is a statement of fact that most of this physically challenge person do not vote. They cannot stand the rigour of the voting process. You and I know that a blind or disabled person can not go to the polling vote to wait for hours. They will be able to vote if a conductive atmosphere is created for them INEC will have to come up with arrangement that will be convenient for them. So far from it, we do not assist the handicapped people because we want them to vote for us. What we do at kpakpando is to empower handicapped people and make them employers of labour.
You were a ranking member of the National Assembly. What are you doing to lobby your colleagues to make law that will integrate the physically challenged people to vote during election or did you sponsor any bill when you were there?
There is a bill right now for person with disability: it is about the right with person with disability. That bill has gone to second reading as we speak. The bill is still the same thing with the old one that we facilitated. So the bill is about person with disability having a commission. This commission will enable government to vote money for them in the budget when they have a commission, government begin to take care of them annually by providing fund for them. This issue of begging would have reduced. This commission will be able to know the statistics of persons with disability in Nigeria. This commission will also be able to fight for the right of persons with disability and there will be international collaboration with this commission with other agencies worldwide. When we are doing it in form of an association, it is not the same thing with if government is doing it and backing it up with legislation there is nothing stopping us in this country to say all public quoted companies should remit one percent of their annual profit to cater for persons with disability. This will augment whatever is approved by the National Assembly as the budget of the commission responsible for the handicapped people.
Once this bill is passed into law the suffering of persons with disability would have been alleviated to a large extent. When there is no legal framework on the status of persons with disability, it becomes problematic to deal with their issues. That is why it has to be done at the level of an NGO and at the level of foundation.
We are agitating for this bill because we want it to move from the level of NGO to government taking over the welfare of persons with disability. That is not to say we will not complement government's effort in attending to the needs of persons with disability.
Apart from giving persons with disability wheel chairs, sewing machines and recommended glasses. What other thing does Kpakpando Foundation give to assist persons with disability?
We have a lot of things that we do. You are aware that this year we awarded 21 scholarships to persons with disability. Our first set of students that we sponsored in tertiary institutions has graduated. You saw the youth corper at the venue of my birthday event. We sponsored her from year one to the final year one to the final year at the University of Port Harcourt. As we speak, we have over 65 students in tertiary Institutions on Kpakpando Scholarship all over the country. Our mission is to ensure that they are self reliant. We take the pain to sponsor them to higher institutions, because once they are educated, they will be more productive to themselves and to the nation. But if they are not educated, they will be less productive. We have taken it upon ourselves to educate them to the best of our ability. We are building a school for persons with disability and hope that the school will be completed and start Academic session soon. We intend to have both formal and informal education for them in this school and we are still on it and intend to complete it soon and this will be useful to some of these people. Apart from the formal school, there will be skills acquisition for students in the school. Penultimate Tuesday, we went and commissioned computer  centre  that will helps the men on wheel chairs at Orlu in Imo state. About 10 persons have been employed. Many are learning to work on computers and we have computer engineers among them. We have those who type, scan, photocopy, and those who do graphics. We set up this computer centre for them so that they can be self sustained. We are also looking at sustainable programme for them, not just an adhoc thing and that was why we gave them empowerment items. The idea is when you get something, no matter how little; you will be able to sustain yourself. It might interest you to known that their needs are not much.  What matters to them is just to get busy and the sustainability. That is why we have remained focused and consistent. We strive so hard to succeed because once we succeed, they have succeeded. I must say that I receive a lot of encouragement from them. We shall continue to   try our quota to the uplift of persons with disability. We shall continue to position them for greater heights.
I have seen a lot of Foundations with different agenda but Kpapkando Foundation seems unique by catering for persons with disabilities. Why did you set up this foundation?
I set up the Kpakpando Foundation for Persons with Disabilities basically because the society has not been fair to these people. The society is not even fair to those who are able. The poorest of the poorest, so to speak, so that we will be able to encourage them. That is the main reason why I set up this foundation. We are basically into persons with disability. We are not into any other area but empowerment for persons with disability. You know they have six clusters of persons with disability. Those on wheelchair, those impaired, the blind, it is about six cluster and we tried to accommodate the six cluster whenever we are giving out items. That is our area of specialization. We don't believe in touching other areas. There are other foundations and NGOs that touch other areas. Like the widow, the downtrodden but ours is for the handicapped.
The kpakpando Foundation is also money gulping. How do you source funds?
Most of the things we do are self-funding. Whenever we have money, we try to set aside some foundation. It is my own way of paying tithe. That does not mean we reject assistance from anybody, to God be the glory but the foundation is self-funding. We do not rely on assistance but if anybody wants to assist, we want it to be in a particular area, so that members can see that you have assisted. Whatever is given to the foundation is made public because it belongs to the foundation.
Definitely there are challenges. What are they and how have you been able to cope?
Yes, there are challenges but we try as much as possible not bother ourselves with the challenges. Instead of bothering about challenges, we bother about set goals. Every year, we set out a milestone for ourselves and work toward it.
As for challenges, as I said earlier, there are challenges in the area of not achieving our set goals. What bothers us is not being able to meet our set goals not about our challenges. Even if it means to borrow to ensure we touch the lives of these people. We touch the lives of these people. We don't mind. That is our calling and we must put smiles on their face
When you won the election to return to the senate and lost in the bid to keep your seat at the Supreme Court, critics had thought the foundation will go into extinction but the dream is still on. How did you achieve this?
As I said earlier, setting up of the Kpakpando Foundation does not have a political undertone. These people do not vote during election. This is something I enjoy doing. So with or without being in the national assembly, I will continue to touch the lives of persons with disability. I have been out of the senate for close to five years and I had celebrated my birthdays with these handicapped persons. Not only that, I have been consistent in attending to their needs. These are facts that you can verify. Like some foundations or NGOs, the Kpakpando Foundation is not set up to woo the electorate for votes I have been financing this foundation from what I make from my business and I will continue to do so as long as God keeps me.