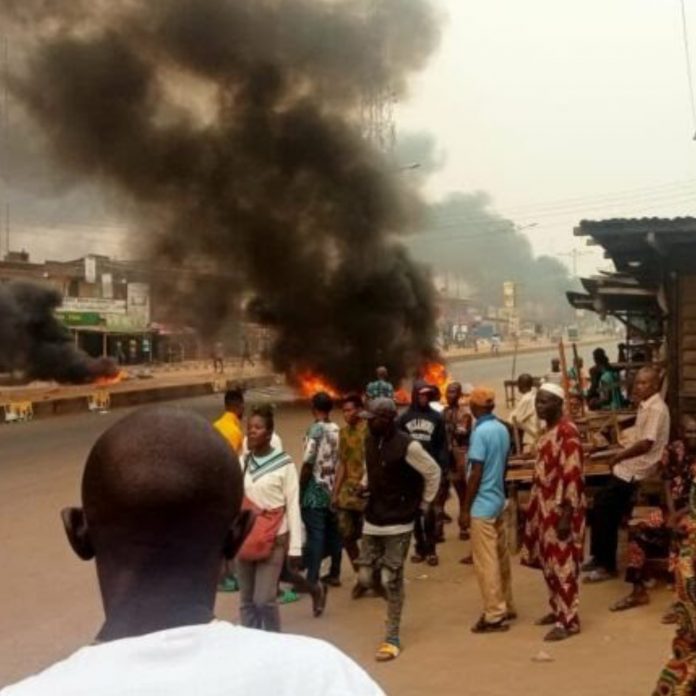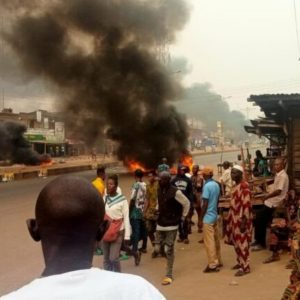 Protesters at Sagamu
By Our Reporter
Another protest reportedly rocked Sagamu area of Ogun State on Monday as angry residents set three banks on fire.
Videos on social media show that Union Bank, First Bank and Keystone Bank have been set on fire by the irate protesters, venting their anger over scarcity of the Naira notes.
The protesters blocked roads in the area and set tyres on fire in the middle of the roads. Vehicular movement came to a halt.
Shops in the area were deserted, as schools were shut. Companies and other banks in Sagamu have been shut as the riot spread.
The protest is coming despite warning by the Ogun Commissioner of Police, Frank Mba threatening to deal with those trying to foment trouble in the State.
Mba said intelligence at the disposal of the Command indicated that some criminal elements were planning to take advantage of the challenging economic situation to disrupt the peace being enjoyed in the State.
He spoke during a confidence-building patrol conducted by the Police and other security forces in the State, on Saturday, targeted at assuring residents of the resolve of the Command to protect lives and property, prevent breakdown of law and order, and improve public safety and security.
He, therefore, warned that the police would not fold its arms and allow persons with criminal intentions, to hide under any guise whatsoever, to unleash mayhem on residents, private and public property, and critical national infrastructure, including banks and offices of the Independent National Electoral Commission (INEC).
Mba assured that necessary security architecture has been emplaced to protect the peace loving people of the State.
He stated that the Area Commanders and Divisional Police Officers (DPOs), had been directed to arrest and bring to book, any person or group wanting to foment trouble and cause breach of peace in the State.