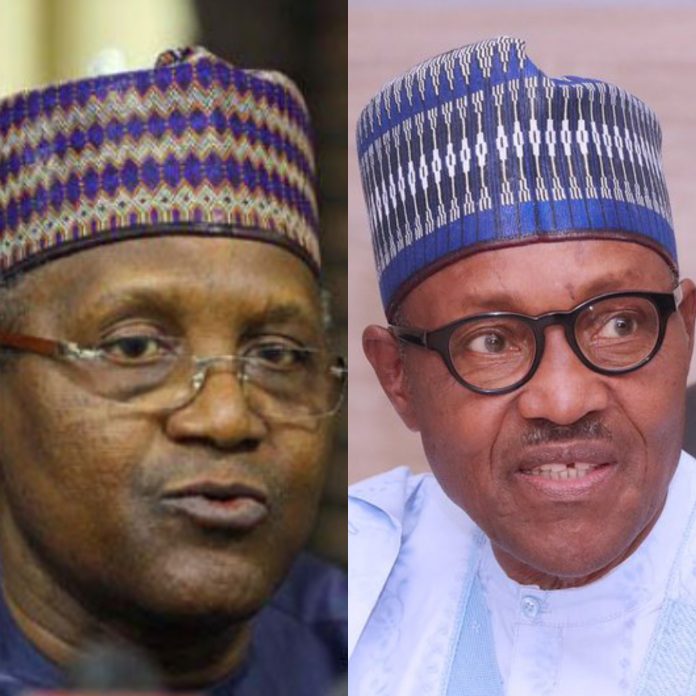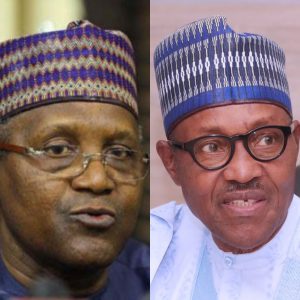 Aliko Dangote, Muhammadu Buhari 
By Our Reporter
President Muhammadu Buhari today commissioned the 650,000 barrels per day Dangote refinery located at the Lekki free zone near Lagos.
The pipeline infrastructure at the refinery is the largest in the world with 1,100 kilometres and will handle three billion standard cubic foot of gas per day.
President Buhari described the refinery as a significant milestone for Nigeria's economy and a game changer for the downstream petroleum products market in the entire African region.
While speaking at the ceremony, President of Dangote Group, Aliko Dangote, said the investment of over $18.5 billion in the Dangote Petroleum Refinery in Ibeju-Lekki, Lagos State, was prompted by the company's desire to support and contribute its quota to the Federal Government's sustained effort to transform Nigeria's economy.
He added that the investment was to also reposition Nigeria as the leading nation in Africa and a respected member among emerging economies in the world.
He stated that the refinery's role in fulfilling the group's corporate vision of promoting self-sufficiency and global competitiveness, saying: "We have built a refinery with a capacity to process 650,000 barrels per day (plus 900,000 tonnes of polypropylene) in a single train – which is the largest in the world. We have selected the best plants and equipment and the latest technologies from across the world.
"Our products slate is designed to meet the highest quality standards and high-value products including Premium Motor Spirit (PMS), Automotive Gas Oil (Diesel), Aviation Turbine Kerosine (ATK); all of Euro V Standards that will enable us not only meet our country's demand but also to become a key player in the African and global market.
Dangote refinery
"Our coastal location and offshore loading and offloading (SPM) facilities with a capacity to receive all our crude oil supplies and evacuate up to 75 per cent of our liquid products give us direct access to the rest of Africa and the global market for exports. In addition, 80 per cent of our production can be discharged through trucks nationwide."
Dangote stressed that apart from ensuring a consistent supply of high-quality fuels for the transportation sector, the refinery will provide essential raw materials to a wide range of manufacturing sectors, including plastics, pharmaceuticals, food and beverages, packaging, construction, and more.
He said the refinery's operation and related businesses would generate a substantial number of job opportunities, while the downstream supply and distribution of its products would significantly contribute to the absorption of labor, potentially benefiting hundreds of thousands of individuals.