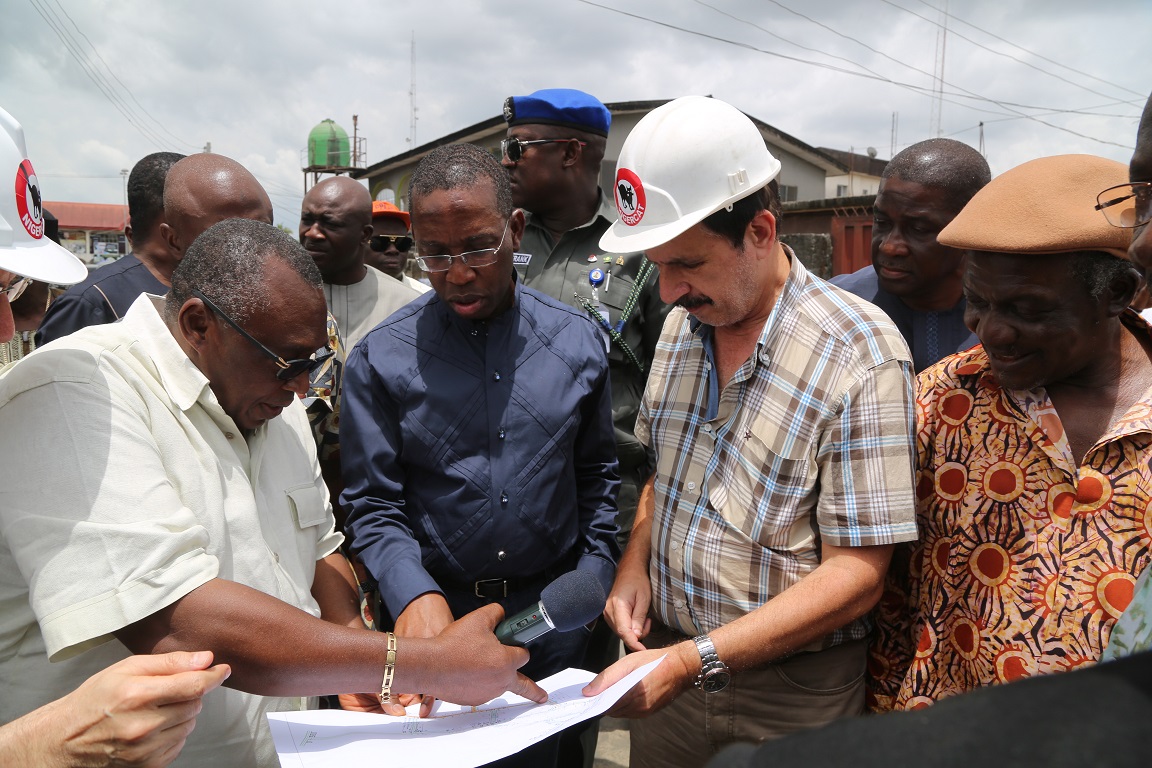 Delta State Governor, Senator Dr. Ifeanyi Okowa has inspected some on-going road construction projects in the state expressing his satisfaction at the pace of work and the construction firms keeping to project schedule and specifications.
Speaking yesterday (16-3-16) during the inspection visit to road projects in Isoko North and South, Uvwie, Ughelli North and Warri South Local Government Areas, Governor Okowa said his administration was poised to take advantage of the dry season to construct and rehabilitate roads and  commended the contractors handling the projects for keeping to the project schedule and specifications.
He explained that most of the road projects being inspected was awarded by his administration in December 2015 and would be completed before the end of 2016 stressing " You can see that most of the contractors are doing good job, they are all on site and working so hard, about 80% of the job will be completed before the rains begin."
The governor who was accompanied by the Commissioners For Information and Works, Mr. Patrick Ukah, and Chief James Augoye respectfully and the Permanent Secretary of Works, Mr. Donatus Umukoro  noted that some of the contractors have not been paid mobilization fees and were on site working. He explained that the contractors working for this administrators were committed and would deliver quality work.
Governor Okowa stated that processes were ongoing, to work out modalities of paying compensation to residents whose properties were demolished in the course of construction along the sector A of the Ughelli /Asaba dualization and the Effurun/ Enerhen road dualization.
Senator Okowa inspected the 1.94km old Oleh/Emede/Olomoro Road in Isoko South Local Government Area, the 7.3meters new  side lanes along the 49km Sector A Ughelli/Asaba dualization in Ughelli North L.G.A; the 2.05km Oteri Township Road; the 8.5km Ughelli/Afiesere/Ofuoma road, and the Dederu/ Ejiyere street and nine other link roads in Okere/Urhobo, Warri South Local Government Area.
He also inspected the Bus Rapid Transport (BRT) lane along Warri/Effurun road, where Engr. Umukoro, Permanent Secretary, Ministry of Works explained that based on the state government's decision to discontinue with the project work was going on to extend the road to  six lanes so as to ease traffic congestion.