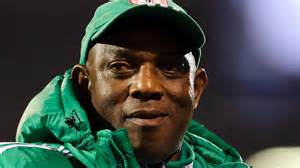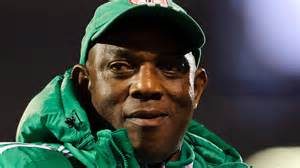 Family sources have hinted National WAVES how incessant worries over the death of his wife Kate, who died six months ago after battling a cancer related disease in the United State of America culminated in the death of former Super Eagles captain and coach, Stephen Okechukwu Keshi .
Keshi, 54, who died few days ago Benin, capital of Edo State was said to have complained of being unwell just before midnight on Tuesday and he was found to be gasping for breath.
He was rushed to Faith Hospital in the Benin Government Reservation Area. He died around 00.30.
His body was deposited at the Central Hospital in the city.
Family sources reveal that Keshi was constantly thinking of the demise of his wife and had mourned her for six months and this took a toll on his health until he had heart attack and finally breathed his last.
Keshi was born in Azare Bauchi state on 23 January, 1962.
He spent most of his growing up years in Lagos. He started playing football for the defunct African Continental Bank in 1979.
He joined the New Nigerian Bank in 1980 and played for four years. He joined Stade d'Abidjan in 1985.
Two years after, Keshi moved over to Lokeren in Belgium, a country where he also played for Anderlecht.
Keshi played for Nigeria between 1981 and 1995, making 64 appearances.
He was appointed manager of the Nigeria national team in 2011, during which he qualified Nigeria for the World Cup in Brazil and also won the African Nations Cup in 2013.
Only Egypt's Mahmoud El-Gohary, had won the Africa Cup of Nations as both a player and a coach, before Keshi.
Keshi also coached Togo and Mali before being appointed to lead Nigeria