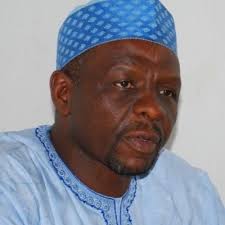 Hon Mohammed Ali was the member representing Kawo constituency In the Kaduna State house of assembly. He is a die-hard Buhari apostle. Hon (Dr) Muhammad Ali was born on Saturday 9th January, 1960 in Kaduna. He had his primary education at Army Children School New Cantonment A Kaduna, Secondary education at Teachers College Zaria and had his tertiary education at School of Legal and Extra Mural Studies Katsina Polytechnic. He was conferred with an honourary doctorate degree in Public Administration by the Pacific Western University, Denver Colorado U.S.A.
A college teacher at the beginning of his career, Muhammad Ali was later to become a career civil servant and a valuable Intelligence officer with the State Security Service. He was also on the staff of Nigeria Export/Import Bank Abuja from 1997 to 2002. He held various positions in a career spanning over 25 years.
After retirement from service in March 2002, Hon. Muhammad joined the turbulent terrain of politics under the banner of the All Peoples Party (APP) which was to later become All Nigeria Peoples Party (ANPP). He aspired for the Kaduna North Local Government Chairmanship in 2004 but lost due to what was later described as his rigidity in character and consistency in principles. In 2010, Dr Muhammad Ali became a founding member of the Congress for Progressive Change (CPC). He contested the 2011 General Elections under the banner of CPC in Kawo constituency of Kaduna North Local Government and won. Dr Muhammad Ali is the sitting member representing Kawo constituency in the Kaduna State House of Assembly. He chairs the Public Petitions and Human Rights Committee of the Kaduna State House of Assembly, Vice Chairman House committee on Judiciary, member sports and Youth development amongst others. As a member, Hon Muhammad Ali spare headed the review of the local government electoral law and aims to foster mutual trust and respect amongst our diverse ethnic and religious persuasions.
He is a member of various NGO's and serves as the Chief Responsibility Officer on the Board ofAlmoravids Security Consultants, a private security consortium based in Kaduna and the founder of the Human Resource Development and Empowerment Initiative (HRDEI) which he set up on assumption of office in June, 2011.
An avid researcher, writer and human rights crusader, Hon  Muhammad Ali was also a former number 1 contender to the World  Middle weight boxing title which he lost to Phillip Hannibal of the U.S.A. in July 1979 at Caracas – Venezuela, South America.
His commitment to social justice and human rights is such that even his detractors admire him. Dr Muhammad is well travelled; married with children.
In this interview with National WAVES publisher, Jimmy Enyeh and North Central Bureau Chief, Abdullahi Abubakar, he was optimistic that   General Mohammudu Buhari will emerge the president of Nigeria in 2015,
Excepts
Was it because you were a boxer that you were named Mohammed Ali after the legendary boxer, Mohammed Ali?
No not at all, I was named Mohammed Ali before Casius Clay became Mohammed Ali, he embraced Islam and became Mohammed Ali in 1964, I was named Mohammed Ali at birth in 1960, so I am the  original Mohammed Ali,
You earlier said the CPC will take over from PDP in 2012 but there has been this controversy whether Gen Buhari will contest or not. As one of his foot soldier, what is the exact position?
 General Buhari is a leader par excellence. There is what I call "Buharism" is more of a movement and ideology anchored and built on a sincerity of purpose, steadfastness and love for the fatherland.  A zero tolerance for corruption kind of movement, this is what Buhari literally stands for. So, whether he will contest or not, all we believe is that we are moving for a  change in direction. We are looking at a situation where all the contending opposition olitical parties will come together, particularly the vibrant political parties, the Action Congress of Nigeria (ACN) and the Labour party (LP).
We are looking at a situation whereby these three will come into a merger so that together we will be able to build a new Nigeria. Nigeria free of corruption, nepotism and tribalism. General Buhari is a Nigerian, he is free at any point in time to contest and he is free to contest the presidency of this country
Some skeptics are giving the excuse that he contested in 2003, 2007, 2011 and lost. So he should not be given a chance to re-contest.
He never lost
What do you mean by that hei never lost, from INEC's record, he lost the three elections?
Listen; if we are to look at these three elections holistically, Gen Buhari won the elections   even the kind of leadership that is in place particularly of the electoral body. It denied Nigerians their right, for their votes to count, as things are today, we sincerely hope and pray that Nigerians will sit back and think properly themselves
What is currently happening in the country is quite unfortunate and very sad, when you look at the porous state of the country's security. It is something of great concern and should give us concern.
You cannot join the issue of government with business or contract, today leadership has become an issue of contract. Nigeria is being run by contractors and except we put the nation first, we will continue to have problems. We need leaders who really care for the country and it is topmost in their minds
Nigerians are really looking forward to leaders who are  ready to lead  by example and for anybody  who claims to be a  leader  and want to change  the society  such   leader  must  lead  by example  you cannot  change  the people until  you bring about  some changes  within yourself  so  for  a leader  to change  his own  followings, he should  first  influence  some changes in his own attitude.The way  he does things  and so on if today  I want people  to  have zero  tolerance for  corruption, I should not be seen  to be in the forefront of graft, I should live  by what  I preach, it is  quite unfortunate  that anti-corruption  slogans are  all over the place, yet, what is happening is beyond  anybody's imagination. So,who are  we deceiving  and what are we  doing about this? These  are  fundamental questions, we should not forget  that Nigeria has great potentials to be  a superpower  but because  of this issue of  corruption  and lack of  direction , this is where we  are today. Fundamentally, since the Obasanjo regime, there has been dream of getting foreign investors to come and invest in Nigeria
There are two important things that will not make a responsible investor to invest in Nigeria, this is insecurity and the absence  of electricity. In as much as we cannot generate enough power for our industries, then we should  forget about  investors  coming  to  invest in this country
They are businessmen and will have to look at the pros and cons before investing.
Invariably, some of the people in government have interest in the company bringing In these  generating sets, so , it is the deliberate  policy of government to ensure that PHCN does not work so that their cronies will continue to import generating sets into the country. Everywhere you go, you will be first greeted by the noise of generating sets. No responsible government will ever tolerate this.
During the second tenure of Obasanjo's administration, about $16billion was said to have been expended to rectify this problem, that much I feel is enough to solve the electricity problem of Africa and not Nigeria, yet we have not seen light and come to think of it, nobody is brought to book as to why $16billion was spent without solving the problem. As I speak to you, the light we have is from the generating set. This computer school is not a profit making venture. I am just giving back to the society that elected me, yet I spend money on diesel and petrol to run the generating set. This school is set up to train the youths to enable them be self-reliant. I do not believe in training them and ensuring that they are professionals in their respective fields and that will be forever. I may not be in the Assembly tomorrow but if I use this opportunity to train some people, they will be there to train others tomorrow.
Tell us about the bills you are working on in the House of Assembly and the bills already passed?
We have not done too badly; we that been able to sponsor bills that made impact in the lives of people in my constituency and beyond. We have been in office for a year and eight months as members of the Kaduna State House of Assembly. On the issue of education, job creation, etc. aside from sponsoring bills we have been able to put smiles on the faces of people. I have taken my being a member of the KSHA as a call to serve humanity. This is why when I come to my constituency office to attend to people and other issues.
I am conscious of my financial limitations, so I will never promise what I cannot do. Whatever I do is not my effort per'-se.It is the wish of Allah.
How will you rate the performance of the Kaduna State House of Assembly?
Kaduna State House of Assembly has not done badly in the last one year and eight months. Mind you, the KDHA is dominated by members of the People Democratic Party (PDP). We of the Congress of Progressive Change (CPC) are the minority. We have not done badly as a team but when we talk issues that will touch the lives of the common man, I think we have not done enough, a lot is still being expected of us.
How did you conceptualize this idea of setting up a computer school to train the youths?
The idea had been in me from my secondary school days I have been attuned to what will bring about progress and also want to always impact on the lives of my people. What will I do that will help the man next door? That has been my attitude and it is this attitude that has helped me a great deal.
As it stands today, there are quite a lot of people whom have assisted to join the army, police, air force, prisons services, name it. This I do because of my belief that whatever little I have, I should utilize it to also touch other people's lives. This has been my dream and when I succeeded winning election into the state Assembly, I felt I wanted to make a difference by setting up a computer school to train the youths. Two weeks after I was inaugurated as a member, we rented this place and christened it Human Empowerment Initiative, and right before the election, I had a blueprint called Diagnosis Design and Delivery.
It revolves around the issue of insecurity, girl-child education, health care, and unemployment. Having gotten the opportunity to serve, I think, I can contribute by training the youths.
This is what brought about the setting up of this center. As it is today, we are registered with the Corporate Affairs Commission because I am looking at this centre beyond my political era. Even if I am not in the House, this centre will continue to train people free of charge. Our disadvantaged youths, both male and female, will be able to have something to fall back on.
Out of the special Grace of God, we have been able to have an affiliation with the National Open University of Nigeria from the next graduation; it is the National Open University that will issue certificates to our graduates. From this centre, whoever has the certificate can go beyond Kaduna State to work. This is why we are very careful selecting our students; you must write examination and pass before you are admitted. You must have the minimum entry qualification to a higher institution before we admit you here. You must have at least, five credits which must include English and Mathematics, so that by the time you leave, you can gain entry into any Nigeria University.
This interview was conducted in November 2012