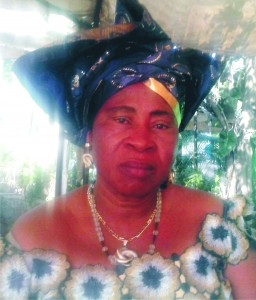 Honorable (Mrs.) Caroline Ogbuji who hails from Imo State spoke with the Editor National WAVES magazine, Tola Bakare on why she wants to become the President of the Federal Republic of Nigeria come 2015, under the Peoples Democratic Party (PDP). Hon Ogbuji said the issue of 35 per cent Beijing affirmative action is not her priority, rather, women should have the same equality like men in the area of elective positions. She however commended President Goodluck Ebele Jonathan for appointing women into higher positions in his cabinet. She also promised to provide gainful employment to Nigerians.
Excerpts.
Can we meet you?
I am Caroline Ogbuji a.k.a (Unoppose) from Imo State, I attended Rufus Giwa Polytechnic Owo, Ondo State, and the Federal University of Technology, Akure, Ondo State for my university education.
How old are you?
47 years.  I am one of the founding mothers of the PDP right from its inception, but I have not been given any political appointment. I have only been a woman leader. I have been a member of the PDP since 1998.
Your ambition now is to become the President of the Federal Republic of Nigeria?
Yes, I want to become president. I joined politics through the zero party in 1996. After that, I joined UNCP from UNCP to PDP. I am a grass root politician, because the best way to be in politics is to start from the grassroot. You will then know how to carry people along. You will then know what is affecting the people.
I have followed presidential campaigns for four times in Nigeria.
How do you want to become President of Nigeria?
To be the President of Nigeria is not a difficult task. I know how to transform the lives of my people, something that will favour the lives of the common people.
Are you sure Nigerian women will vote for you?
Collectively, Nigerian women will vote for me. See for instance, I have traversed the length and breath of Nigeria, I am seeking the support of over 80million Nigerian women out of the over 160million Nigerian population. Women constitute the majority, and majority of voters in Nigeria are women. I have keyed into that and that is where I will overrun Nigerian men who might be contesting along with me.
I am not going to be a disgrace to Nigerian women. We need a total change from our present system of governance. The women will vote for me. After all, our first lady, Mrs. Jonathan once said that women can do it. I will ask for God's wisdom that will pilot me to successfully govern Nigeria.
What I am going to do is different from what the president is doing. It is not that President Jonathan is not doing anything, but I will do my own from the women's angle.
There is a wise saying that train a woman, you have trained a nation. See Liberia, a woman President, ruling peacefully.
Which means you will invite many women into your cabinet?
Not only in cabinet. They will be in the Senate, House of Representatives, State Houses of Assembly. So that anytime I want anything from either the senate or House of Representative, I will get it.
On the issue of Boko Haram?
Boko Haram are human beings. I will apply female methodology to capture Boko – Haram in Nigeria. They will listen to me as a woman. They will sympathize with me and that will be the end of Boko – Haram.