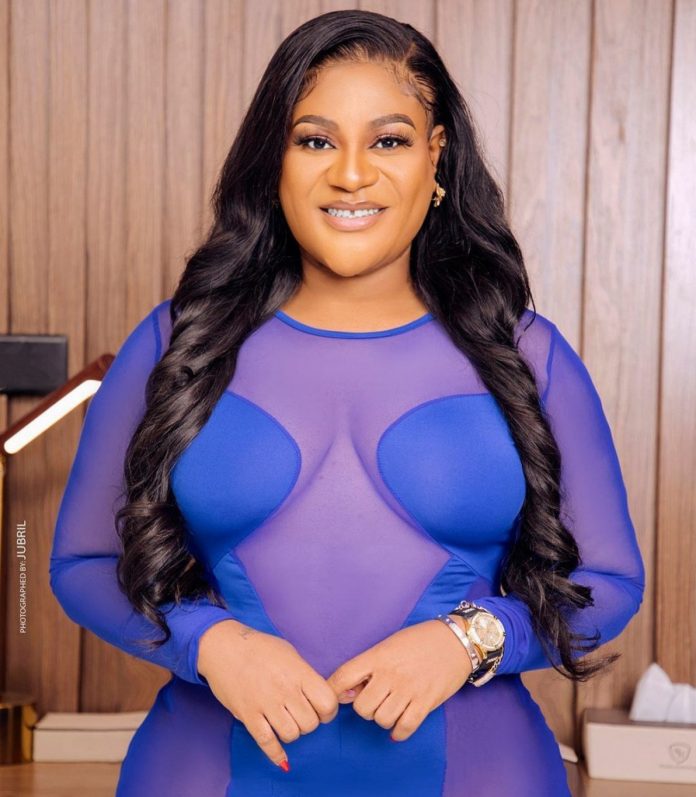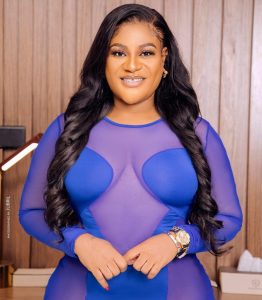 Nkechi Blessing
By Our Reporter
Twitter users took a swipe at controversial Nollywood actress, Nkechi Blessing, for sharing sex toys as souvenirs at her mother's remembrance party on Sunday.
The video of the controversial actress announcing the gifts and thereafter distributing to ladies at the party had gone viral with many condemning the act.
Speaking at the remembrance party, the actress said the gesture was not to say men are scum because she has got a man but to help the single ladies who may not have a man.
Reacting, a Twitter user, drpenking, wrote: "Actress Nkechi Blessing shares dildos at her mother's one year remembrance. Even if you want to chase clout, must it be with your late mother's memory? God please May our children not disgrace us."
Warepamorsammy said: "Nkechi Blessing has no respect for the dead,she is insensitive, has no honour for her mother and has no value for life. She is a shame of a woman,a disgrace and complete ridicule of a human being for a supposed matured adult."
Ladye4303 stated: "This is total disrespect to her mother. This is so wrong on many levels. May her mother's soul rest in peace"
Daniel Regha wrote: "Nkechi Blessing doesn't cherish her mom's memory otherwise she won't be sharing d!ldos at her mother's remembrance; What a shameful act. Anything for clout. It's unfortunate that someone like this is being regarded as a role model. She's needs help, something is wrong with her."
One millie said: "That thing Nkechi Blessing did is absolutely disgusting, I mean there are children in attendance and you pull such nonsense!"
Reacting to the vitriolic attacks, the actress, via her Instastory on Monday, told her her critics to leave her alone.
She stated that she took good care of her mother while she was still alive and can celebrate her memorial however she wants, adding that some of those criticising her on social media do not take care of their parents.
"Even people wey don forget their parents wey never die sef dey talk. Everyone around me knows I don't joke with my family," Nkechi Blessing wrote in Pidgin language.
The Nollywood actress added that the cake and celebration was for her late mother's posthumous birthday, saying no one deserves any explanation from her because they were not there when she suffered with her family.
"My own mother that gave birth to me died on September 22nd 2021… 23rd 2022, I had her quiet remembrance and prayers, went to the streets and gave out food and water, nobody kuku hear anything.
"25th was my mother's birthday hence the cake and a little party to host a few friends. Not like you all deserve any explanations what I choose to do with my own life. Cus when we dey suffer/hungry I no see any of una, so make all of una try rest," Blessing stated.